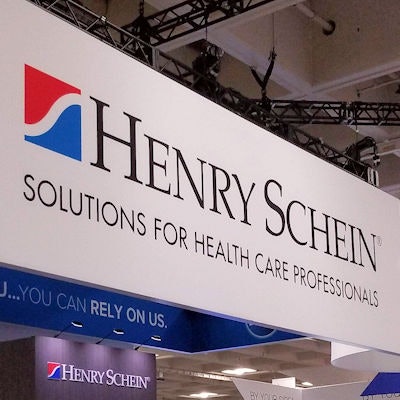 Henry Schein saw growth in its revenue and net income for the first quarter of 2020, but the company warned that the COVID-19 pandemic is having an impact on revenues in both its medical and dental businesses.
For the first quarter (end-March 28), Henry Schein reported sales of $2.428 billion, up 2.9% compared to revenues of $2.360 billion in the first quarter of 2019. The company's net income for the period was $130 million, compared to $110 million in the corresponding quarter of 2019.
By market segment, Henry Schein noted that in its dental business, first-quarter sales were $1.475 billion, down 4.6% compared to sales of $1.546 billion in the first quarter of 2019. Sales fell 3.9% in North America and 3.4% internationally.
Henry Schein noted that dental revenues were in line with expectations in January and February, but sales of consumables were "significantly impacted" in the U.S. after the American Dental Association in mid-March recommended that dental practices suspend operations other than emergency procedures.
In the company's medical division, sales for the quarter rose 17.1%, to $801 million, compared with sales of $684 million in the corresponding quarter of 2019. The company noted that it recently introduced two point-of-care test kits to detect antibodies from SARS-CoV-2 infection in as little as 15 minutes and without the need for machine equipment. The antibody tests are being marketed under an emergency use authorization from the U.S. Food and Drug Administration.
Henry Schein is working to bring additional tests to market, as well as to boost deliveries of personal protective equipment (PPE).
Henry Schein noted that the company has taken a number of steps to generate cash savings during the COVID-19 crisis, including reducing overhead costs and implementing a payroll cost reduction plan that includes furloughs, reduced work hours, voluntary unpaid time off, suspension of 401(k) contributions, and job reductions. The company noted that it has a strong balance sheet and has access to $1.7 billion in liquidity.