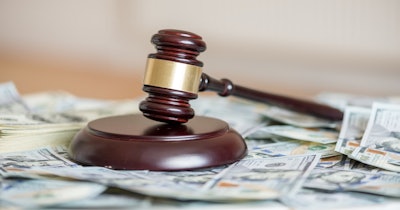 The U.S. Securities and Exchange Commission (SEC) has filed a cease-and-desist order and fined Co-Diagnostics $250,000 due to allegations that the firm filed misleading press releases about its COVID-19 tests and that it failed to disclose financial transactions involving the family members of executives.
Co-Diagnostics has agreed to settle without admitting or denying the SEC's findings, the SEC said. According to the SEC filing, the Salt Lake City-based firm issued two press releases in February 2020 that misleadingly suggested its research-use-only Logix Smart Coronavirus COVID-19 polymerase chain reaction (PCR) test was ready for sale to laboratories, hospitals, and other institutions throughout the world and could be used by consumers.
The Logix Smart test was granted an emergency use authorization (EUA) by the FDA in April 2020 for use by CLIA-certified laboratories.
The SEC said in its order that the firm's share price closed 19% higher from the previous day on February 6, the day the first press release went out; the share price closed 32% higher compared to the previous day on February 10, the day the second press release was issued.
The U.S. Food and Drug Administration (FDA) sent Co-Diagnostics two letters on February 11 and February 26 requesting that they change the misleading language in the press releases; the company purportedly amended the releases to note that the tests were for research use only and were not available in the U.S.
However, on February 13, during the period between the sending of those two letters, Co-Diagnostics sold 3,324,676 shares of common stock at $3.08 per share in a direct public offering, with total proceeds of $10.2 million, according to the order. At the time, the press releases allegedly remained on the firm's site, and Co-Diagnostics "had neither retracted nor modified the materially misleading statements contained in the February 6 or 10 releases," according to the SEC.
The SEC filing notes that Co-Diagnostics received notice from Nasdaq in July 2019 that its stock had fallen below the minimum $1 per share requirement for 30 consecutive days and the firm risked being delisted. The $3.08 per-share price as of February 13, 2020, was a sharp rise since that time, the SEC noted.
According to the SEC order, Co-Diagnostics allegedly failed to disclose that the firm had hired CEO Dwight Egan's son as the firm's director of sales and marketing, and Andrew Benson, the son of then-CFO and general counsel Reed Benson, as the firm's head of corporate communications and investor relations.
The SEC separately fined Dwight Egan $40,000 for signing off on annual reports that did not disclose compensation paid to his son and Andrew Benson, as well as to the consulting company co-owned by Andrew Benson.