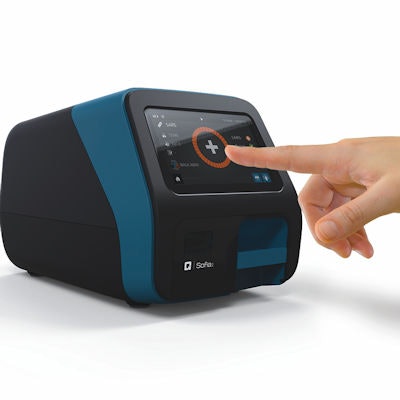 Clearance of Quidel's rapid antigen diagnostic test by the U.S. Food and Drug Administration (FDA) marks the arrival of a third type of assay for the novel coronavirus, with promise to help scale up as states reopen their economies.
Quidel's Sofia 2 SARS antigen point-of-care (POC) test is designed for use with the company's Sofia 2 fluorescent immunoassay analyzer. On May 9, the FDA granted emergency use authorization (EUA) for the test for use by CLIA-certified moderate- and high-complexity labs and facilities that have a CLIA waiver.
The assay detects fragments of proteins found on or within SARS-CoV-2 in nasal or nasopharyngeal specimens. According to the company, the test delivers results in 15 minutes.
In a statement, FDA Commissioner Stephen Hahn noted that the clearance is the first for a third category of coronavirus tests. Previously, the agency cleared polymerase chain reaction (PCR) tests, which look for genetic material of the novel coronavirus to make the diagnosis, and serology tests, which assess whether coronavirus antibodies are present due to an active or a past infection.
"Antigen tests are also important in the overall response against COVID-19 as they can generally be produced at a lower cost than PCR tests and once multiple manufacturers enter the market, can potentially scale to test millions of Americans per day due to their simpler design, helping our country better identify infection rates closer to real time," Hahn said.
The agency said that it expects more antigen tests will be cleared and that it will provide an EUA template for antigen tests to help streamline submissions and expedite review of applications. Aside from Quidel, other companies that are developing or have developed antigen tests include OraSure Technologies, Avacta/Adeptrix, CorisBioConcept, and E25BIO.
"Diagnostic testing is one of the pillars of our nation's response to COVID-19 and the FDA continues to take actions to help make these critical products available, including by issuing EUAs," Hahn said.
Gottlieb: A 'real game changer'
The company is now selling and shipping the product to customers in the U.S. In addition to the SARS test, Quidel markets Sofia assays for influenza A and B, respiratory syncytial virus (RSV), group A Streptococcus, and other infectious diseases.
Former FDA Commissioner Dr. Scott Gottlieb described the technology as a "real game changer" during an interview on the television program "Face the Nation" on May 10, noting that Quidel's application had been cleared by the agency within 24 hours after receipt. Some 40,000 Sofia machines are already installed in doctors' offices, so testing could be readily accessible, he pointed out. It's also a cheap test, costing only about $5, he said.
The test's sensitivity is about 85% and there is a risk of false negatives, but if doctors suspect COVID-19 they can follow up on negative results with PCR, which has a longer turnaround time. As the company said it is working to scale up from 200,000 to 1.5 million tests per week, this could dramatically expand testing capacity, Gottlieb said.
During a White House press briefing on May 11, Admiral Dr. Brett Giroir, assistant secretary of health, said that the clearance was very important and in just a few weeks the company will have the capacity to make 9 million tests per month.
Interest in antigen tests has been growing following public comments about their potential by Dr. Deborah Birx, the White House coronavirus response coordinator. Demand is high for cheap and fast, near-patient tests due to frustration with molecular reverse transcription PCR (RT-PCR) tests, commented Bruce Carlson, publisher of Kalorama Information, a sister company of LabPulse.com.
"RT-PCR was never a high-throughput modality, and now it needs to be with unprecedented volume," Carlson said.
In addition, the swab used for PCR tests is uncomfortable for the patient. With antigen tests, however, the tradeoff is accuracy. There have been problems with flu antigen tests, with many models of rapid influenza diagnostic tests (RIDTs) pulled off the market due to low accuracy rates, Carlson noted. As a result, new regulatory requirements were imposed. Still, in a bad flu season, there is a demand for any test and the same could be true for the coronavirus, he commented.