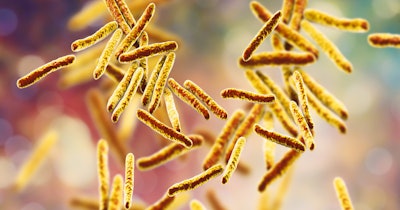 Qiagen on Thursday announced a systematic review and publication of the clinical relevance of test values from its QuantiFeron-TB Gold Plus TB1 and TB2 blood collection tubes.
The study, including 4,050 subjects, highlights the value of the TB2 tube and the detection of CD8 T-cell responses for immunocompromised patients, a key risk group for tuberculosis disease, the firm said.
"The results of this large systematic review warrant further exploration of the role of patient stratification that QuantiFeron TB testing could offer," Dr. Davide Manissero, chief medical officer of Qiagen, said in a statement.
The meta-analysis was conducted by Universitas Padjadjaran, Indonesia, and published recently in Clinical Chemistry and Laboratory Medicine.
It centered on Qiagen's QuantiFeron-TB Gold Plus test, an interferon-gamma release assay (IGRA).
The test features two primary blood collection tubes -- TB1 and TB2 -- enabling detection of responsive CD4 T cells in TB1, and additionally, CD8 T-cell responses in TB2.
The review, based on 17 studies, showed a higher level of interferon-gamma (IFN-γ) production in the QuantiFeron-TB Gold Plus TB2 tube than in the TB1 tube, confirming the important role of CD8 T-cells for a broad immune assessment of TB infection, Qiagen said.
The ability to differentiate active TB disease from latent infection has long been sought by the medical community to help stratify patient risk. Subgroup analysis in specific populations for the study revealed that the difference of IFN-γ production between the TB2 and TB1 tubes was significantly higher in active TB disease subjects than in those with latent TB. The result likely reflects a significant CD8 T-cell response in active TB subjects and may be related to the increased tuberculosis bacterial load in these individuals, Qiagen said.
The study also highlighted the potential benefit of the TB2 tube for CD8 detection in certain high-risk populations, such as immunocompromised patients, and especially those having CD4 T cell deficiency, the firm said, adding that it provided additional insights into the medical relevance for detection of both CD4 and CD8 T-cell responses in the context of diagnosis of TB infection, including disease.