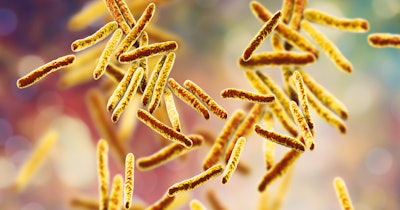 Investigators in a study have employed a technique called dielectrophoresis to selectively isolate the disease-causing bacterium Mycobacterium tuberculosis, utilizing sputum samples from suspected tuberculosis (TB) patients in underserved areas.
The findings from the study, published Thursday in the Journal of Molecular Diagnostics, may help reduce TB's global burden by bringing diagnostics to patients most in need.
According to the World Health Organization, each year there are approximately three million undiagnosed cases of tuberculosis (TB) globally, characterized as the "missing millions." TB is the thirteenth leading cause of death worldwide and, until COVID-19 surpassed it, was the leading cause of death from an infectious disease. Globally, it infects 10 million individuals and kills 1.4 million every year, of whom 230,000 are children.
Although infectious, TB is highly treatable. However, affordable diagnostics suitable for implementation at the point of care are needed to reach the "missing millions."
The researchers sought to advance development of an inexpensive, rapid, accurate, and portable diagnostic test for M. tuberculosis from suspected TB patients' sputum, mucus brought up from the lungs by coughing.
To accomplish this, they used a prototype microfluidic lab-on-a-chip system called Capture-XT developed by diagnostic company QuantuMDx. The system processes solubilized sputum from suspected TB patients, captures M. tuberculosis for visual analysis, and provides a purified sample for molecular confirmation by quantitative PCR, and ultimately, for genotypic drug-susceptibility analysis.
Capture-XT technology relies on the principle of dielectrophoresis, an underutilized technique that can be tuned to selectively attract or repel specific cells based upon their dielectric properties. In this case, the M. tuberculosis bacteria are captured and concentrated, while other sputum contents are washed away.
After optimization using a panel of 50 characterized sputum samples, the prototype's performance was assessed by a blinded screening of 100 characterized bio-banked sputum samples. Concordance with smear microscopy culture diagnosis was 100% for smear-negative samples and 87% for smear-positive samples. Of the latter, the high-bacterial burden sample concordance was 100%. These results demonstrate the technology's potential to provide a sample preparation tool that functions as a front-end platform for enhanced molecular detection.
The researchers said that diagnostics with increased sensitivity and expanded drug susceptibility testing are needed to address drug resistance and diagnose low-bacterial burden cases. They believe their results may improve TB detection and treatment in high-endemic, under-resourced areas.
"Collaboration between university-based academic researchers and biotechnology industry scientists presents a way forward to develop new approaches for some of the world's greatest healthcare challenges, such as TB," lead investigator Philip Butcher, of St George's University of London, said in a statement. "This new chip-based technology could bring diagnostics to patients that need it and also, by more accessible case-finding, prevent the further spread of this disease."