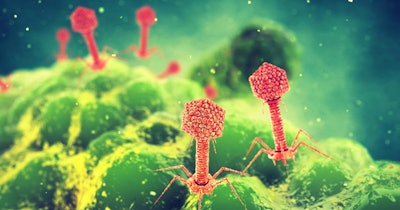 PBD Biotech has received a U.S. patent covering a diagnostic kit for phage-based tuberculosis testing.
The U.K.-based company is focused on the use of bacteriophages, viruses that only infect and replicate in bacteria, to diagnose infectious diseases. PBD is using its expertise in phages to develop Actiphage, a test designed to detect the active mycobacteria that cause tuberculosis in blood samples.
In a statement, PBD CEO Jane Theaker discussed how the new patent fits into the portfolio of intellectual property that the company is building up at the United States Patent and Trademark Office (USPTO).
"We already have a granted U.S. Patent for the specific method steps, but this new allowance relates to the specific components that make up the Actiphage TB diagnostic kit, strengthening our rights," Theaker said.
The USPTO published the patent for the method for testing for target mycobacteria in 2020. That older patent covers the method of adding a bacteriophage to a sample under conditions that allow it to infect live mycobacteria and the steps for identifying a DNA sequence that indicates the pathogen is present.
PBD has also received patents covering the method in other parts of the world. The newly issued patent is distinct, though, and was harder to obtain than the other intellectual property, as Theaker explained.
"We are particularly pleased with this result; claims covering diagnostic kits are notoriously difficult toobtain before the USPTO, as the components of the kit are generally considered individually and not in relation to how the kit is to be used," Theaker said.