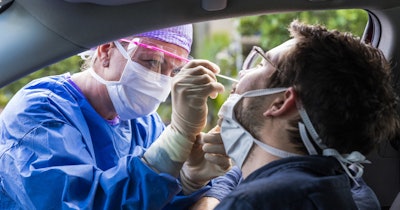 Scientists say they have engineered an accurate, low-cost, and eco-friendly COVID-19 test that could dramatically reduce environmental waste.
The biodegradable electrochemical biosensor is made from bacterial cellulose (BC), an organic compound synthesized from several strains of bacteria.
Researchers at the University of Pennsylvania in Philadelphia say the test, which costs around $3.50 per unit to produce, could be used as a substitute for polymerase chain reaction (PCR) tests, most of which use large amounts of metal and plastic and are difficult to recycle.
The test was able to detect SARS-CoV-2 within 10 minutes in tests on clinical samples, according to a paper published in Cell Reports Physical Science.
"We propose that biosensors composed of eco-friendly substrates, such as BC, may be better suited for widespread testing as they dramatically reduce the electronic waste (e-waste) and environmental impact," the authors wrote. "We envision that this technology may help to prevent outbreaks in countries where the SARS-CoV-2 vaccination rates are low but frequent testing is feasible and sanitary practices are adequate."
While PCR tests are viewed as the gold standard, there is an increased focus on possible "green" alternatives, as most biosensor tests use printed circuit boards, which end up in landfills, as they are difficult to recycle and slow to biodegrade.
BC is used in wound care, skin regenerative medicine, and point-of-care (POC) diagnostic devices. The new test has BC as its substrate and a carbon-based electrode modified with graphene oxide and the human angiotensin-converting enzyme-2 as its receptor. It does not require the use of a redox probe or additional reagents for transduction and diagnosis at the POC and is mostly biodegradable, save for small amounts of silver, which could be recovered for use in other applications.
Analysis reported by the team showed the test detected SARS-CoV-2 rapidly, accurately, and with high sensitivity. The virus was detected in 10 minutes and only 10 μL of nasopharyngeal and oropharyngeal clinical samples were needed.
"Our device accurately and precisely detects emerging SARS-CoV-2 variants and demonstrates exceptional sensitivity, specificity, and accuracy for tested clinical nasopharyngeal/oropharyngeal (NP/OP) samples," the authors wrote.
They noted that the electrodes used in the device can be rapidly mass-produced by industrial screen printers, making the technology "highly scalable."
"Our biosensor has the additional advantages of not requiring major advanced instruments, modern laboratory facilities, additional reagents, or sample pretreatment, which makes it ideal as a rapid test to be used at testing sites," they added.