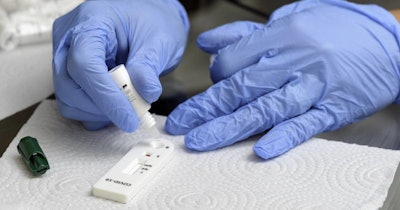 Researchers have published the performance data that prompted the U.S. Food and Drug Administration (FDA) to revise its position on COVID-19 testing last year.
In November, the FDA revised the emergency use authorizations (EUAs) for all COVID-19 antigen tests to cover the need for repeat testing following a negative result. The FDA took the action in response to data from a study, details of which were previously published in a preprint, that showed repeat testing increases the likelihood that an at-home COVID-19 antigen test will detect infection with SARS-CoV-2.
The Annals of Internal Medicine has now published a peer-reviewed paper about the study. The paper describes how the U.S. National Institutes of Health (NIH) collaborated with the FDA and the University of Massachusetts Chan School of Medicine to assess the performance of rapid antigen tests.
Investigators enrolled 5,353 people who were asymptomatic and negative for SARS-CoV-2 at the start of the study. Subjects tested themselves using rapid antigen kits for the first time at the start of the study, for a second time 48 hours later, and for a third and final time another 48 hours after that. The design of the study enabled the researchers to assess whether repeat testing improves test sensitivity.
"The results clearly showed that serial testing with rapid antigen tests in a population that was screening for COVID-19 can perform as well as PCR tests," Dr. William Heetderks, PhD, a study co-author, said in a statement. "This study has a key public health impact because it showed how effective antigen tests are when used serially."
In asymptomatic people, rapid antigen tests detected fewer than 10% of infections on the same day that a polymerase chain reaction (PCR) test first delivered a positive result. Repeat testing improved performance, causing the figure to rise to 39.3% after the second test and 56.4% after the third test. In symptomatic people, rapid antigen tests detected 59.6% of cases the first time and 92.2% of cases in the second round of testing.