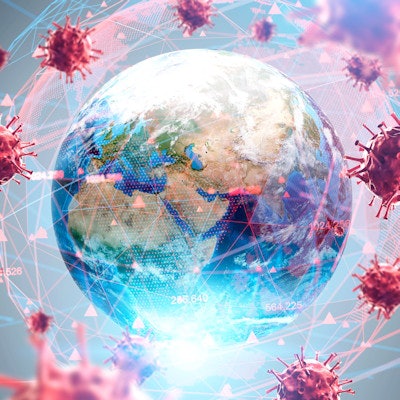 As the world grapples with yet another coronavirus variant -- this time Omicron -- there is some good news. Companies and health agencies are attesting that the polymerase chain reaction (PCR) tests commonly used in the U.S. remain effective in detecting the variant.
Appearing on CNBC with President Joe Biden on November 29, Dr. Anthony Fauci fielded a question from a reporter on COVID-19 screening in the U.S.
"Fortunately for us, the PCRs that we mostly use would pick up this very unusual variant that has a real large constellation of mutations," Fauci said.
For now, this observation seems to be holding true. In a press release issued by PerkinElmer on November 29, the company said that because its assays do not target the S gene for detection of SARS-CoV-2 they are not affected by the mutations.
Other companies have confirmed that their COVID-19 tests are still effective in detecting the Omicron variant, including Hologic, Co-Diagnostics, and Qiagen.
Omicron was first reported to the World Health Organization (WHO) on November 24 by officials in South Africa. So far, the variant has not been identified in the U.S., according to the U.S. Centers for Disease Control and Prevention.
Omicron's "large constellation of mutations" in the spike protein encompasses more than 30 changes, and those changes are related to increased infectivity and the "ability to evade infection-blocking antibodies," according to an article in Nature.
The Omicron variant was labeled a variant of concern by the WHO, which said in a statement that there is evidence to suggest that it poses an increased risk of reinfection. However, the WHO also noted that current diagnostics should be able to detect the variant.
"Current SARS-CoV-2 PCR diagnostics continue to detect this variant," the WHO said in a statement. "Several labs have indicated that for one widely used PCR test, one of the three target genes is not detected (called S gene dropout or S gene target failure) and this test can therefore be used as [a] marker for this variant, pending sequencing confirmation. Using this approach, this variant has been detected at faster rates than previous surges in infection, suggesting that this variant may have a growth advantage."