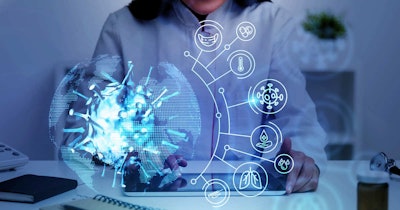 Dr. Anthony Fauci invoked Yogi Berra in an online article Sunday describing the challenges ahead for specialists facing the possibility of emerging infectious diseases.
"As one of my favorite pundits, Yogi Berra, once said, 'It ain't over till it's over,'" wrote Dr. Fauci in a perspective published in the New England Journal of Medicine. "Clearly, we can now extend that axiom: when it comes to emerging infectious diseases, it's never over."
Next month, Dr. Fauci will step down from his positions as director of National Institute of Allergy and Infectious Diseases (NIAID), part of the National institutes of Health; chief of NIAID's Laboratory of Immunoregulation; and chief medical advisor to President Joe Biden.
He has directed NIAID since 1984, and with the impending changes, "a bit of reflection is inevitable," he wrote.
Once considered a potentially static field of medicine, the discipline of studying infectious diseases has proven to be dynamic as emerging and reemerging infectious diseases present continuous challenges, he wrote, adding, "As infectious-disease specialists, we must be perpetually prepared and able to respond to the perpetual challenge."
Dr. Fauci noted that the emergence of HIV/AIDS in 1981 spurred an increase in interest in infectious diseases among people entering medicine. Since then, infectious disease specialists have faced numerous medical challenges, including the 2009 H1N1 influenza pandemic, Ebola, Zika, severe acute respiratory syndrome (SARS), Middle East respiratory syndrome (MERS), and COVID-19, he wrote.
Although COVID-19 was "the loudest wake-up call in more than a century to our vulnerability to outbreaks of emerging infectious diseases," Dr. Fauci noted that one success of the response was the rapid development, testing, and distribution of COVID-19 vaccines because of years of research and investment in new and highly adaptable vaccine platforms and structural biology tools for designing vaccine immunogens.
These technological advances, among others, will greatly benefit the field of infectious diseases, Dr. Fauci added.
He further noted that the field of infectious diseases has already benefited greatly from technological advances. Those include "the tools we now have for responding to emerging infectious diseases, such as the rapid and high-throughput sequencing of viral genomes; the development of rapid, highly specific multiplex diagnostics; and the use of structure-based immunogen design combined with novel platforms for vaccines," Dr. Fauci said.