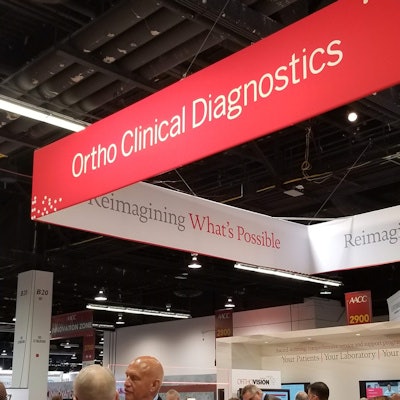 Ortho Clinical Diagnostics is planning a gradual rollout of a coronavirus antibody test designed for its Vitros immunodiagnostic systems.
Ortho's test screens for immunoglobulin G and M (IgG/IgM) antibodies in the blood. It will be rolled out for use on the more than 1,000 Vitros systems -- the XT 7600, 3600, 5600, and ECi/ECiQ models -- in U.S. hospitals and reference laboratories.
The company informed the U.S. Food and Drug Administration that it has validated and plans to offer serology testing on April 3, and it is also considering a path forward for an emergency use authorization from the agency.
Molecular testing is the gold standard for detecting SARS-CoV-2, but antibody testing has great potential to show who has been exposed and has developed immunity, including people who are asymptomatic. In recent weeks, antibody testing has been getting a higher profile in White House press briefings on the novel coronavirus.
"It's going to be paramount to have an antibody test -- not by itself but in concert with the molecular test," Chockalingam Palaniappan, PhD, chief innovation officer, commented in an interview.
The company estimated that the Vitros systems can process approximately 150 tests per hour. Ortho envisions a phased rollout, starting with the hot spot areas of the pandemic. The speed of the rollout depends partly on the supply chain; shortages of reagents and other supplies have been reported.
Palaniappan anticipates that thousands of tests will be performed in one month, hundreds of thousands in two to three months, and millions in three to four months.
"We have capacity to ramp up, but are waiting for the supply chain to catch up to our capacity," the executive said.