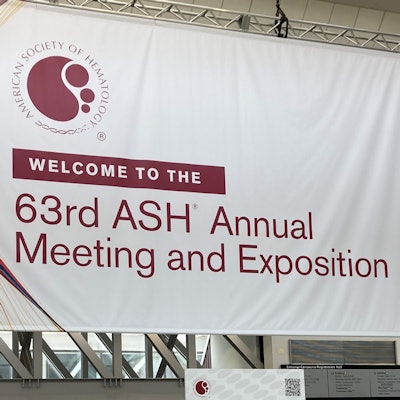 ATLANTA - A new study recommends periodic screening and early intervention to prevent the blood cancer multiple myeloma (MM) in older adults who are Black or who have an immediate family member with a current or past form of blood cancer, according to research presented on December 11 at the American Society of Hematology (ASH) 2021 meeting.
"We know that in cancers such as breast cancer and lung cancer screening, early detection and early intervention can make a difference in patient survival," senior author Dr. Irene Ghobrial of the Dana-Farber Cancer Institute in Boston said in a statement. "We have shown for the first time that with highly sensitive screening techniques, it may eventually be possible to make a difference in the survival of people at elevated risk for multiple myeloma."
The presentation marked the first results to emerge from the PROMISE study launched in 2019, which is the largest screening study yet conducted in the U.S. of people at high risk for MM, specifically individuals ages 40 or older who are Black or who have a first-degree relative diagnosed with a hematologic malignancy or a precursor condition to MM.
The PROMISE researchers analyzed the participants' blood via serum protein electrophoresis, immunofixation, and a commercially available protein assay system (Optilite, Binding Site) to measure serum-free light chains, immunoglobulin (Ig) G, IgA, and IgM. Some patient samples were subsequently analyzed with higher-sensitivity matrix-assisted laser desorption ionization-time of flight mass spectrometry (MALDI-TOF MS).
The study presented at ASH 2021 focused on a precancerous condition called monoclonal gammopathy of undetermined significance (MGUS), a clinically detectable but asymptomatic premalignant phase that carries a 1% per year risk of progressing to MM. Currently, doctors do not routinely screen patients for MGUS, Ghobrial said.
A previous study estimated that 3% of Americans ages 50 and older have MGUS, but it was conducted in people predominantly of European descent. Using a more at-risk population sample and the more sensitive MALDI-TOF MS screening technique, the PROMISE study detected MGUS in 14% of participants.
"Ours is the largest cohort of Black people to be recruited for a myeloma screening study and the first prospective study to actively recruit people at high risk for multiple myeloma, follow them over time to accurately estimate the prevalence of MGUS, and explore outcomes for patients with this precursor condition," Ghobrial said.
In the future, Ghobrial and her research team hope that the PROMISE study will help identify the factors that contribute to the development of MGUS and that cause MGUS to progress to MM in some people but not others.
Meanwhile, given the high prevalence of MGUS in the study participants, the study recommends periodic screening and early intervention for those at risk.
"We believe these results make a strong case that older adults who are Black or who have a first-degree relative with a blood cancer could benefit from regular, high-sensitivity screening and early intervention," Ghobrial said.