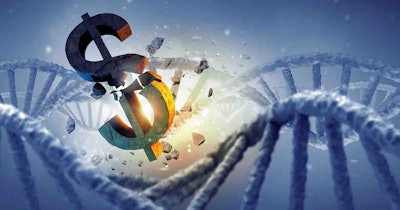 Hong Kong-based Prenetics Global, a genomics and diagnostic testing firm, on Friday announced that it is acquiring a majority stake in Taiwan-based precision oncology firm ACT Genomics.
Under the terms of the transaction agreement, Prenetics has agreed to issue 19.9 million shares of its Class A ordinary shares and pay $20 million in cash for a majority stake in ACT.
Prenetics anticipates ACT will contribute approximately $25 million to $30 million in 2023 revenues.
The acquisition is expected to enable the integration of germline and somatic testing, liquid biopsy-based cell-free DNA testing, and tissue-genomic profiling onto one platform.
ACT Genomics is a cancer solutions provider with offices in Taipei, Hong Kong, Singapore, Tokyo, Bangkok, and the U.K. Its capabilities include next-generation sequencing (NGS) technology, CAP-accredited laboratories, and proprietary artificial intelligence (AI) algorithms. The firm provides optimal cancer treatment planning, immunotherapy evaluation, cancer relapse and drug resistance monitoring, and cancer risk assessment services to medical professionals.
Founded in 2014, Prenetics is a global diagnostic and genetic testing company with an aim to decentralize healthcare through consumer health, clinical care, and cancer genomics initiatives.
Prenetics develops consumer genetic tests and early colorectal cancer screening tools. It also provides COVID-19 testing, rapid point-of-care and at-home diagnostic testing, and medical genetic testing.
"With the addition of ACT's technologies, capabilities and team, Prenetics will be well-positioned to accelerate the utilization of genetic information throughout a cancer patient's journey," Danny Yeung, cofounder and CEO of Prenetics, said in a statement. "Starting from risk profiling and diagnostic testing, moving to therapy optimization, monitoring, and recurrence surveillance, Prenetics will be able to deliver the information needed to enable best-in-class personalized cancer care."
The acquisition is expected to be completed around December 30.