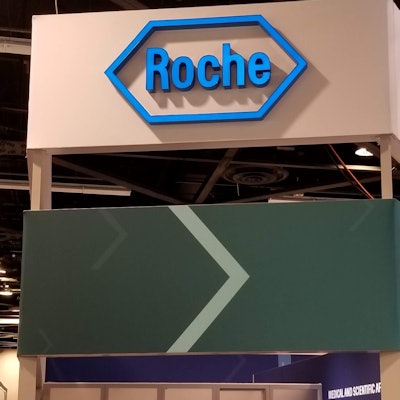 Blood-based next-generation sequencing for identifying ALK genetic mutations and guiding drug treatment accordingly was validated in Roche's BFAST study of non-small cell lung cancer (NSCLC), researchers reported in a September 30 presentation at the European Society for Medical Oncology (ESMO) Congress.
In the phase II/III Blood First Assay Screening Trial (BFAST), 2,219 patients with previously untreated NSCLC were screened for genetic mutations; 5.4% (119) had a rearrangement of the ALK gene. That's the proportion that would be expected with traditional tissue biopsies, reported University of Michigan oncologist Dr. Shirish Gadgeel and colleagues at the meeting, which is being held in Barcelona, Spain.
The FoundationOne Liquid test was used to direct patients to treatment with the Roche's ALK inhibitor alectinib (Alecensa). In the year after treatment, the confirmed objective response rate was 87.4% and the 12-month duration of response was 75.9%. The 12-month progression-free survival rate was 78.4%, with the median not reached.
The data show that liquid biopsy can be used instead of tissue sample biopsy to identify relevant mutations for an increasing number of patients with lung cancer, commented Alberto Bardelli, PhD, a professor in the oncology department at the University of Turin in Italy, in a statement from ESMO. While the cost of liquid biopsy is high, this is likely to come down, allowing wider use, he added.
The ALK data represent the first cohort reported in BFAST, which is a multiarm study of Roche's blood-based cancer screening strategy for guiding treatment with cancer drugs. The trial is enrolling a total of 580 treatment-naive NSCLC patients. In addition to alectinib, BFAST investigators are studying blood testing as a means of guiding treatment with atezolizumab (Tecentriq), a programmed cell death ligand 1 (PD-L1) inhibitor, and entrectinib (Rozlytrek), which is used in ROS1-positive NSCLC and NTRK fusion-positive solid tumors.
BFAST is the first prospective trial to use blood-based next-generation sequencing as the only test for identifying and assigning NSCLC patients to targeted therapy based on mutations, with no need for tissue biopsy, Roche noted in a statement.