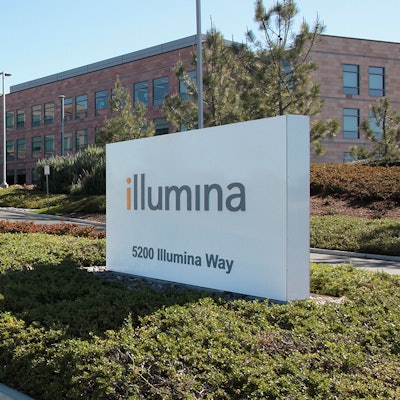 SAN FRANCISCO - Illumina showcased a new 15-year next-generation sequencing (NGS) collaboration with Roche and two new sequencing systems during its company presentation on January 13 at the annual J.P. Morgan Healthcare Conference.
The companies said the partnership, which is nonexclusive, will make the most of Illumina's decentralized installed base and Roche's assay development expertise to make next-generation sequencing technology more accessible to cancer patients. Through the deal, Roche gets the rights for the development and distribution of IVD tests on the Illumina NextSeq 550Dx system and future systems. Illumina will manage sales of the systems themselves and consumables.
"Roche will leverage its broad commercial reach into pathology and clinical labs and robust portfolio of oncology diagnostics and therapeutics to help expand lab, clinician, and patient access to critical NGS diagnostic tests on Illumina's Dx platforms," Illumina CEO Francis deSouza said at the meeting.
Roche will also work to add companion diagnostic claims for Illumina's TruSight Oncology 500 pancancer DNA/RNA next-generation sequencing. TruSight targets 523 genes and provides information about tumor mutational burden and microsatellite instability biomarkers. The plan is to develop and get labeling claims for the test in use with Roche's targeted cancer drugs -- including approved cancer drugs and investigational ones in its pipeline -- on Illumina's NextSeq 550Dx system.
Closer partnering with Roche will accelerate demand for NGS-based tests, deSouza said.
"With the path to broader adoption of distributable tests now clear, we are seeing growing demand from both clinical and translational labs for increasing amounts of clinical grade genomic information at lower cost," he said.
Illumina often takes advantage of the annual J.P. Morgan meeting to release new products, and this year it unveiled the NextSeq 1000 and NextSeq 2000 sequencing systems, which the company said will support expansion of the technology at a lower cost and will be usable for small labs.
Testing deal of the week?
As a partnership between two top IVD players -- with Roche in the No. 1 position based on revenue -- the deal is likely to wind up being the biggest related to clinical testing at the J.P. Morgan meeting, commented Bruce Carlson, publisher of Kalorama Information, a sister company of LabPulse.com. The meeting runs from January 12-16, and in addition to the main event, there are many satellite gatherings at city hotels.
In 2012, Roche pursued a takeover of Illumina -- a deal valued at more than $6 billion -- reasoning, at the time, that the pair could accelerate access to sequencing in clinical and routine diagnostics. But the deal collapsed in the face of opposition from Illumina.
The announcement at the J.P. Morgan meeting is significant, but it does not represent a singular Roche-Illumina tie-up. Illumina has many partnerships with other companies, including with Qiagen and with ArcherDX, Carlson noted.