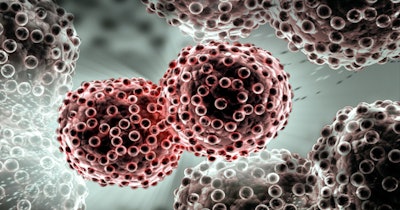 Roche's Alecensa has improved disease-free survival (DFS) in non-small cell lung cancer (NSCLC) patients, positioning the Swiss drugmaker to apply to expand the product label.
The FDA granted Alecensa, an anaplastic lymphoma kinase (ALK) inhibitor, accelerated approval in the treatment of ALK-positive NSCLC in 2015. Since then, Roche has worked to generate additional clinical data on the drug, leading the FDA to award Alecensa regular approval in 2017 and now to phase III results that could support use in another NSCLC patient population.
Basel, Switzerland-based Roche compared Alecensa to platinum-based chemotherapy in 257 NSCLC patients with ALK-positive tumors that were surgically removed before the start of treatment. At the interim analysis, DFS was significantly longer in the Alecensa cohort, causing the study to meet its primary endpoint.
"These strong results provide evidence for the first time that this medicine could also play a pivotal role in early-stage disease where there is significant unmet need. If approved, Alecensa has the potential to treat cancer before it has spread in a setting where treatment can increase the chances of cure," Levi Garraway, Roche's chief medical officer and head of global product development, said in a statement.
Roche has yet to share data from the clinical trial but called the phase III results "unprecedented." The company plans to submit the results to health authorities globally and present them at an upcoming medical meeting.
Approval of Alecensa in the setting could improve outcomes in some of the roughly 50% of early lung cancer patients whose tumors recur after surgery despite adjuvant chemotherapy, but uptake will be limited by the focus on ALK-positive patients. Around 5% of people with NSCLC are positive for ALK.
Other treatment options are available for people who are not ALK-positive. Roche won approval for its checkpoint inhibitor Tecentriq in post-surgery NSCLC patients with tumors that express at least 1% PD-L1, while AstraZeneca is authorized to provide Tagrisso for EGFR-mutated patients. Merck & Co. received FDA approval to challenge Tecentriq, and a broader label than the Roche drug, in January.