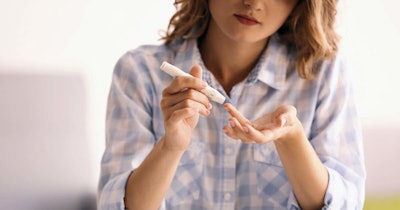 An analysis of plasma proteins found to be linked with type 2 diabetes and diabetic complications may help with developing therapeutic targets, researchers write in an article published in Cell Reports Medicine.
Among 47 proteins "potentially causally associated" with the condition, 17 had a possible causal association with at least one diabetic complication, the researchers determined in a study led by Sweden's Karolinska Institute.
Four proteins (HLA-DRA, AGER, HSPA1A, and HSPA1B) were found to be associated with most studied microvascular complications with effects that "may suggest the roles of inflammation and oxidative stress in diabetic progression," the authors wrote.
"Our findings also suggest that AGER (advanced glycosylation end-product specific receptor inhibitors) or antagonists may be a promising therapeutic target for diabetic complications," noted the authors.
Type 2 diabetes is an "emerging pandemic" which affects 1 in 10 adults globally and poses a heavy burden to medicine and society as a whole from complications such as blindness, kidney dysfunction, and premature mortality.
Population-based and clinical studies have indicated that obesity, physical inactivity, a sedentary lifestyle, smoking, and unhealthy diets are major modifiable risk factors.
While drugs such as metformin, sodium-glucose co-transporter-2 (SGLT2) inhibitors, and glucagon-like peptide-1 receptor agonists have been used effectively to lower the risk of developing complications or delay their onset among diabetic patients, a better understanding of the underlying mechanisms of the disease will lead to better management, the authors note.
"Proteomic research can not only deepen molecular understanding but help to reveal potential therapeutic targets, since many circulating proteins always act as the principal regulators of molecular pathways," wrote the authors.
The Karolinska-led team analyzed genetic data on plasma proteome from around 54,000 UK Biobank participants and a deCODE genetics dataset of nearly 36,000 Icelanders.
Summary-level data on type 2 diabetes were obtained from the DIAGRAM (DIAbetes Genetics Replication And Meta-analysis) consortium (74,124 cases) and FinnGen study (33,043 cases). Data on 10 diabetic complications were obtained from FinnGen and corresponding studies.
The researchers conducted a proteome-wide Mendelian randomization (MR) study, supplemented by colocalization analysis, to explore 1,886 plasma proteins in relation to the onset of type 2 diabetes and diabetic complications such as stroke, coronary artery disease, ketoacidosis, retinopathy, and diabetic hypoglycemia.
"We found 47 plasma proteins with a potential causal association with type 2 diabetes, of which 11 proteins had a strong support of colocalization," the researchers wrote.
Subsequent analysis revealed the roles of 17 diabetes-associated proteins in diabetic complications, although only some proteins were identified in colocalization analysis.
Diabetes-associated proteins were more likely to be associated with microvascular complications than with macrovascular complications.
The researchers point out the study's large pool of plasma proteins as one of its strengths, while noting that among its limitations is that the analysis was confined to Europeans, "which limited the generalizability of our findings to other populations."