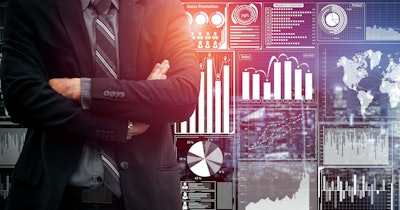 Aptamer-based proteomics firm SomaLogic said after the close of the market on Tuesday that its fourth-quarter revenue declined 18% year over year, primarily due to the recognition of $1.9 million of licensing revenue in the fourth quarter of 2021.
The Boulder, CO-based company appointed Adam Taich, former executive vice president of life sciences, as its interim CEO; Dr. Roy Smythe, CEO and board member, stepped down.
"Roy [Smythe] has been an important contributor to the company, advancing the technology and overseeing the process to becoming a public company," Troy Cox, executive chairman of the board of directors, said on a conference call to discuss the financial results. "Over the last six months, working at a more operational level, I've gained a better understanding of the company and the people."
SomaLogic is at a stage where it needs "seasoned leaders to accelerate market adoption," he added.
In addition to appointing an interim CEO, it appointed four independent board directors: Jason Ryan as chairman and Tycho Peterson, Kathy Hibbs, and Tom Carey as directors.
For the three months ended December 31, the company booked revenue of $18.8 million compared to $23 million in Q4 2021.
Assay services revenue was $15.7 million, down 20% from $19.7 million in the prior-year quarter. Product revenue was $2 million, up 266% year-over-year from $547,000. Collaboration revenue was $763,000, the same as for Q4 2021, and other revenue was $308,000, a year-over-year decline of 85% from $2 million.
In the recently completed quarter, research and development expenses grew by $11.4 million, and selling, general, and administrative expenses grew by $8.1 million compared with Q4 2021.
Fourth-quarter net loss was $49.3 million, or a loss of $.26 per share, compared with a loss of $23.3 million, or a loss of $.13 per share, in the corresponding period of 2021.
SomaLogic said its revenue for full-year 2022 was $97.7 million, an increase of 20% from $81.6 million in 2021. Its revenue growth was primarily due to recognition of future-year licensing revenue.
Full-year 2022 net loss was $109.2 million, or a loss of $.59 per share, compared with a net loss of $87.5 million, or a loss of $.64 per share in the prior year.
The firm said it anticipates that full-year 2023 revenues will be $80 million to $84 million.
"We recognize that it is a dynamic time in the industry and a volatile one in the broader market," Cox added. "It puts SomaLogic in a unique position having an attractive and growing core market. Combined with our strong balance sheet, we are well positioned to pursue strategic options."
At the end of the quarter, SomaLogic cash, cash equivalents, and short-term investments were $539.6 million.
Somalogic shares were down more than 9% to $2.12 in Wednesday trading on the Nasdaq.