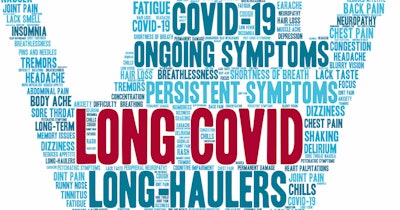 Quest Diagnostics has introduced two Post-COVID-19 panels for consumers that offer information about lingering health issues associated with previous COVID-19 virus infections.
The Post-COVID-19 Basic Panel and Post COVID-19 Expanded Test Panel give consumers a deeper look into their health, helping to prepare them for discussions with their healthcare providers, Quest said.
Although the declaration of a COVID-19 public health emergency in the U.S. is expected to end on May 11, nearly one in five American adults who had COVID-19 still suffer adverse side effects, otherwise known as long COVID, leading to a secondary health crisis, according to Centers for Diseases Control and Prevention (CDC) estimates.
"Millions of COVID-19 survivors have been seeking further insight into their persistent symptoms that just won't go away," Richard Adams, vice president and general manager of consumer-initiated testing at Quest, said in a statement. "The best way to assess what's happening inside your body is through a trusted laboratory test that offers actionable insights."
Long COVID side effects, which are still relatively new to researchers, can occur for four or more weeks post-infection. These symptoms include heart palpitations, fatigue, hair loss, chest pain, joint pain, and brain fog. More so, according to the CDC, nearly 80% of people who experience long COVID say they have limitations during their day-to-day activities.
The Post-COVID-19 Basic Panel consists of tests for the following:
C-reactive protein (CRP) in the blood. CRP is a protein produced by the liver and is a marker of inflammation.
Thyroid function. Abnormal thyroid function is a potential parallel to long COVID.
Vitamin B12. Many symptoms of long COVID are reflected by a vitamin B12 deficiency.
Vitamin D. Many health conditions that put you at high risk for severe COVID symptoms and complications are also related to vitamin D deficiencies.
Urinalysis. The test identifies lower urinary tract symptoms and kidney injury caused by inflammation from a severe COVID-19 infection.
In addition to the above analytes, Quest's Post COVID-19 Expanded Test Panel includes:
Basic Metabolic Panel (BMP) and Hepatic Function Panel, comprehensive screening tools that assess over 15 different substances to evaluate glucose levels, kidney function, liver function, electrolyte, fluid imbalance, and more.
Complete Blood Count (CBC) to measure 15 components of your blood to help identify bleeding disorders or infections and to evaluate abnormal levels of specific blood components. Red blood cells and T cells could be impacted due to a previous COVID-19 infection, and the CBC can detect COVID-19-related blood abnormalities.
Ferritin levels correlate to the body's iron status. Low ferritin levels may indicate an iron deficiency, while high ferritin levels could indicate signs of disease.