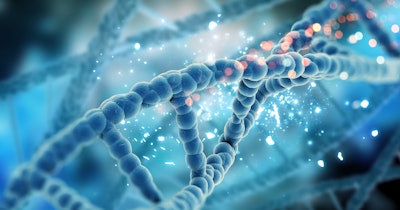 Quest Diagnostics has launched its first consumer-initiated genetic test, Genetic Insights, which is available through its consumer site questhealth.com.
The Genetic Insights test uses a saliva specimen to analyze 36 genes to determine one's potential risk of having nearly two dozen inheritable conditions, including heart and blood disorders, breast and colon cancer, and the carrier status for sickle-cell anemia, cystic fibrosis, and Tay-Sachs disease. The test uses next-generation sequencing (NGS) technology to analyze thousands of DNA variants in the genes associated with the conditions within the test's scope, searching more regions in the individual's genome than microarray testing. The NGS technology used has been shown to detect 80% to 90% of an individual's inherited risk for specific health conditions, according to Quest.
The Genetics Insights test includes an at-home saliva-collection kit, which is then shipped to Quest Diagnostics for analysis. Test results are available within three to five weeks.
Each kit includes an activation code for access to a secure, interactive Genetic Insights online dashboard, where a user can track the status of their test kit, provide a relevant personal and family health history, and chart their family health history via a template that can be downloaded and shared with the individual's doctor. Additionally, users can access educational materials on the genetic conditions tested for, and access and download their personal genetic health reports that are designed to impart complex genetic information into an easy-to-comprehend, actionable format, with information about genes tested, suggested next steps, and key takeaways. Users can schedule a phone or video session with a third-party board-certified genetic counselor through the portal at no extra charge.
The Genetic Insights portal also allows individuals to download and share clinical lab reports directly with their healthcare providers. The lab reports include key findings and access to reference guides, which are intended to facilitate discussions between providers and patients about the test results and conditions, as well as clinical guideline-based recommendations.