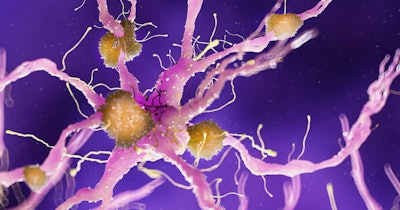 At the 15th Clinical Trials on Alzheimer's Disease (CTAD) in San Francisco on Tuesday, C2N Diagnostics announced plans to launch a next-generation test to aid in the diagnosis of Alzheimer's disease.
With an anticipated launch in the first quarter of 2023, the PrecivityAD2 blood test would facilitate earlier diagnosis of Alzheimer's disease pathology than is possible with current tests, the firm said.
The next-generation test uses mass spectrometry measurements of two plasma proteins implicated in the Alzheimer's disease process -- tau and amyloid beta (Aβ). The tau protein measurement is expressed as a concentration ratio between two peptides that contain tau amino acid 217; one peptide is phosphorylated at tau217 and the second is not, the developer said.
PrecivityAD2 also uses a statistical algorithm to integrate a patient's Aβ42/40 Ratio and p-Tau217 Ratio and calculate the Amyloid Probability Score 2 (APS2). The score determines whether a patient is positive or negative for brain amyloid plaques based on a binary cutoff value, C2N said.
Current diagnostic tools have notable limitations: amyloid PET imaging is costly, remains a difficult procedure to access, and exposes individuals to radiation while cerebrospinal fluid biomarkers require a spinal tap, the firm noted.
C2N's current-generation PrecivityAD blood test leverages measurements of plasma Aβ42/40 and detection of the apolipoprotein E proteotype using a mass spectrometry platform, Dr. Joel Braunstein, C2N's president and CEO, said in a statement.
By comparison, the PrecivityAD2 blood test is "a natural extension of our prior two years of clinical experience with the PrecivityAD test," he said.