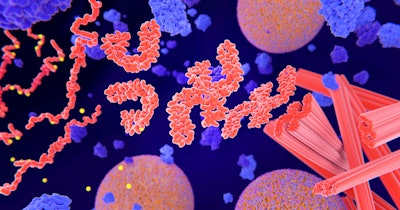 C2N Diagnostics has unveiled its "next generation" blood biomarker test to evaluate patients with signs and symptoms of Alzheimer's disease (AD) and other causes of cognitive decline.
The PrecivityAD2 test uses mass spectrometry measurements of two plasma proteins implicated in the Alzheimer's disease process, tau and amyloid beta (Aβ).
The company launched its original PrecivityAD blood test nearly three years ago. Both the PrecivityAD2 and PrecivityAD blood tests are intended for use in patients ages 55 and older with signs or symptoms of mild cognitive impairment or dementia who are undergoing evaluation of AD or dementia.
In a statement, C2N said that the clinically validated PrecivityAD2 test is a convenient and accurate alternative to positron emission tomography (PET) imaging and cerebrospinal fluid (CSF) analysis offering similar accuracy.
It would help establish a "new standard in Alzheimer's disease diagnosis," said company president and CEO Dr. Joel Braunstein.
He said that harnessing two established biomarkers in one assay could be especially helpful in avoiding misdiagnosis and would aid healthcare providers in ruling AD in or out in patients presenting with mild cognitive impairment or dementia.
"This announcement is timely, with the approval of new disease modifying therapies and others on the way, along with the ability for healthcare providers to more easily refer patients to sites or to mobile phlebotomists where their blood can be drawn for diagnosis," Braunstein added.
The PrecivityAD2 test simultaneously quantifies specific plasma amyloid beta and tau peptide concentrations to calculate the Aβ42/40 ratio and p-tau217/np-tau217 (p-tau217 ratio). The ratios are combined to calculate the Amyloid Probability Score 2, a number ranging from 0 to 100, that determines whether a patient is likely positive or negative for the presence of brain amyloid plaques.
In a clinical validation study involving two independent cohorts totaling 583 patients with cognitive impairment using amyloid PET as the reference standard, the PrecivityAD2 blood test achieved an overall test performance statistic of 0.94 area under the curve and 88% accuracy, C2N said.
Braunstein said the new test "addresses a major unmet need for an accurate, safe, noninvasive, and accessible alternative to amyloid PET scans and lumbar punctures."
"The 2022 Clinical Trials on Alzheimer's Disease Task Force report outlined that combined biomarkers can be especially helpful in avoiding misdiagnosis, and PrecivityAD2 does just that by harnessing two established biomarkers in one assay," he said.
In February, C2N announced that it had received a $15 million investment from the GHR Foundation as part of GHR's commitment to reduce the global burden of AD through early detection and prevention.
The test must be ordered by healthcare providers; patients may arrange a blood draw for the test with one of C2N's over 700 patient service centers and 13,000 mobile phlebotomists.