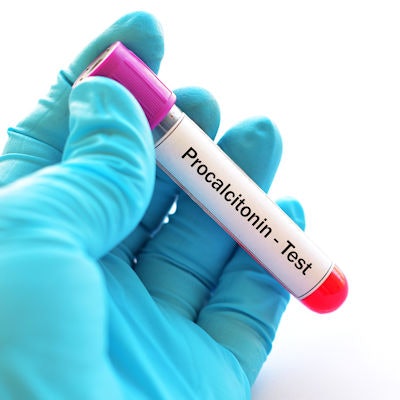 Elevated procalcitonin (PCT) in blood appears to be a good biomarker for infections in patients who have had a myocardial infarction, with potential to ensure more appropriate prescribing of antibiotics, according to a study published June 15 in JAMA Network Open.
As an important marker for inflammation in the body, a blood test for PCT is useful for systemic bacterial infections and sepsis. But its value for detecting infection in patients with acute ST-elevation myocardial infarction (STEMI) -- an area of unmet need -- has been unclear. One key question is whether it is specific enough for infection, or whether levels would increase due to cardiac injury -- a limitation of other inflammatory biomarkers such as C-reactive protein (CRP) and white blood cell counts.
However, the just-published study, which was funded by the Austrian Society of Cardiology, demonstrated that PCT does have potential to serve as a marker for infection in this patient population. The study was conducted prospectively in 141 consecutive patients with STEMI treated with primary percutaneous intervention. Researchers compared blood markers of inflammation versus cardiac magnetic resonance imaging (MRI), which is a standard method for assessment.
In addition to PCT, they measured high-sensitivity CRP, high-sensitivity cardiac troponin (hs-cTnT), and white blood cell counts at 24 and 48 hours after infarct. Results were published by Dr. Sebastian Reinstadler, PhD, of the Medical University of Innsbruck in Austria, and colleagues.
Investigators reported that PCT levels were not significantly correlated with damage demonstrated on cardiac MRI, in contrast with the other three blood biomarkers -- troponin, white blood cell count, and CRP -- which were elevated in line with damage. PCT levels were also not elevated in acute STEMI patients with intramyocardial hemorrhage, they noted. PCT has been a helpful measure for detecting infections in patients with acute heart failure and the research suggests the same may be the case in acute myocardial infarction, the authors concluded.
"These data highlight the clinical potential of PCT to identify concomitant infection and to guide antibiotic treatments for patients with ST-elevation myocardial infarction; however, randomized trials are needed to evaluate the clinical benefit of a PCT-guided strategy," Reinstadler et al wrote.