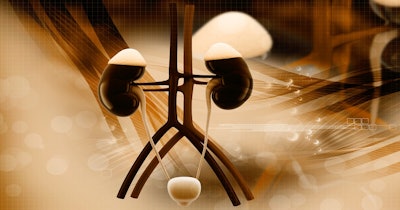 Renalytix on Thursday announced that it has selected Eversana, a global service provider to the life sciences industry, to further expand the commercialization of Renalytix's KidneyIntelX prognostic test for early-stage kidney disease in type 2 diabetes.
The commercialization model developed by the two companies will be launched to primary care providers in parts of the U.S. later in the summer. This deployment will be in addition to existing Renalytix marketing in key markets with established insurance coverage for patients with diabetes and kidney disease.
KidneyIntelX, which has received breakthrough device designation from the U.S. Food and Drug Administration (FDA), combines a machine-learning algorithm with a quantitative immunoassay to identify patients at greatest risk for kidney disease progression or kidney failure and guide clinical decision-making in early-stage diabetic kidney disease.
"The majority of people with type 2 diabetes over the age of 65 have chronic kidney disease," James McCullough, CEO of Renalytix, said in a statement. "Eversana will help us bring the benefits of KidneyIntelX early prognosis quickly to large populations at greatest risk to help prevent the unnecessary suffering and unsustainable cost of kidney failure and dialysis."