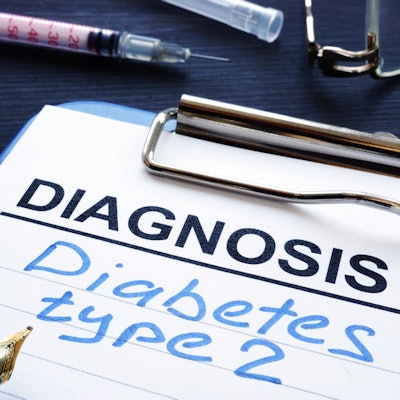 A prototype test that uses highly sensitive biomarkers to analyze DNA in blood is able to determine earlier and more accurately if patients with type 2 diabetes also have vascular complications, according to research published October 1 in Clinical Chemistry. As an early detection tool, the new diagnostic, which requires only 3 mL to 5 mL of blood, could speed up the detection of complications and optimize their treatment, researchers say.
The development is significant for patients with type 2 diabetes because if vascular complications, such as heart disease, atherosclerosis, or kidney failure, are detected at an early stage, preventive treatments could be given to avoid severe clinical outcomes down the line.
Approximately two-thirds of deaths in diabetic patients are caused by vascular complications, noted the study authors, which included Chuan He, PhD, from the chemistry department at the University of Chicago, and Wei Zhang, PhD, from the Feinberg School of Medicine at Northwestern University. Zhang and He codeveloped the test.
"Notably, in patients with [type 2 diabetes], atherosclerosis is the main cause of impaired life expectancy, and diabetic nephropathy and retinopathy are the predominant contributors to the end-stage renal disease and blindness, respectively," the authors wrote.
To develop the test, scientists used a selective chemical labeling strategy for 5-hydroxymethylcytosine (5hmC), a DNA pyrimidine nitrogen base. Using this method (5hmC-Seal), they profiled genome-wide 5hmC -- an emerging class of epigenetic markers implicated in a number of diseases, including diabetes -- in the circulating cell-free DNA (cfDNA) of 62 Chinese patients. Of the patients studied, 12 had no vascular complications, 34 had a single vascular complication, and 16 had several vascular complications.
The researchers analyzed differentially modified 5hmC markers between patients who had type 2 diabetes with and without macrovascular or microvascular complications, using a case-control study design. Statistically significant changes in 5hmC markers were associated with type 2 diabetes-related macrovascular or microvascular complications, they found. These involved genes and pathways relevant to vascular biology and diabetes, including insulin resistance and inflammation.
The authors concluded that 5hmC in patient-derived cfDNA shows promise as a clinically convenient and noninvasive marker for type 2 diabetes vascular complications and has the potential to complement other conventional risk factors for disease monitoring.
Outperforming conventional methods
In the study, a 16-gene 5hmC marker panel was able to accurately distinguish patients with vascular complications from those who did not have any, outperforming conventional clinical variables, or risk factors, including urinary albumin. This 16-gene detection technique not only performed well in distinguishing patients with or without complications but also performed better than diabetic duration, body mass index, and estimated glomerular filtration rate (eGFR), which are considered common indicators.
Moreover, a separate 13-gene 5hmC marker panel was able to distinguish those patients who had one complication from those who had several complications and demonstrated superiority over conventional indicators of risk.
Conventional methods have the potential for error and are not able to identify complications early enough to intervene with successful treatment, according to the researchers.
cfDNA in the blood has attracted great interest as a noninvasive way to diagnose various conditions, such as cancer and cardiovascular disease. The group noted that the 5hmC markers in cfDNA reflect the epigenetic changes in diabetic patients who developed macrovascular or microvascular complications.
"To our knowledge, the 5hmC-Seal is the only method available that allows highly sensitive mapping of genome-wide 5hmC in limited cfDNA materials," the authors wrote. "Our findings therefore not only revealed the detection capacity of the 5hmC markers in cfDNA for vascular complications, but also supported the potential biological mechanisms for the development of vascular complications in patients with [type 2 diabetes]."
The 5hmC-Seal technology has been licensed to Shanghai Epican Genetech, in which He and Zhang are shareholders. Next, the researchers plan to undertake larger-scale studies using the method to further refine and validate the 5hmC markers for type 2 diabetes vascular complications.