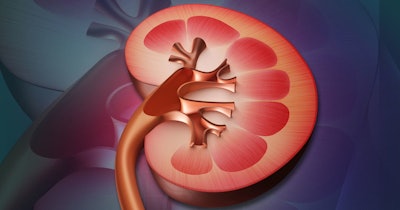 Renalytix on Thursday shared results from a study demonstrating that the use of its KidneyIntelX bioprognostic risk assessment test in primary care settings resulted in improved clinical decision-making and outcomes for 1,686 patients in the earliest stages of diabetic kidney disease (DKD).
The results of the study were published in the Journal of Primary Care and Community Health in November.
Researchers evaluated the effectiveness of a care management program focused on treating DKD patients in the earliest stages of the disease before significant kidney function loss or other complications have developed.
If not addressed at these early stages, kidney disease can be difficult to control; patients can lose up to 90% of kidney function as a result of the disease going unchecked.
The study results demonstrate that the use of KidneyIntelX's risk of progression results by primary care clinical teams enables them to act earlier in establishing an appropriate and cost-effective treatment plan for patients, with the goal of slowing or potentially stopping the progression to kidney failure in patients at higher risk.
Halting or slowing progression and decline in kidney disease can reduce cardiovascular events, hospitalizations, and emergency room visits.
Among the findings, Renalytix highlighted the following in a statement:
57% of high-risk patients had treatment action taken (e.g., medication change or referral) within three months, compared to 35% for low-risk patients.
There was a 10% improvement in HbA1c levels in the high-risk group in the first six months.
There was a 15% improvement in albuminuria, an important indicator of overall kidney health, in the low- and intermediate-risk groups.
"These groundbreaking results demonstrate that we have the opportunity to make a tangible difference today in two of the most complex chronic disease conditions that the U.S. faces today: type 2 diabetes and chronic kidney disease," said Thomas McLain, president of Renalytix, in a statement.