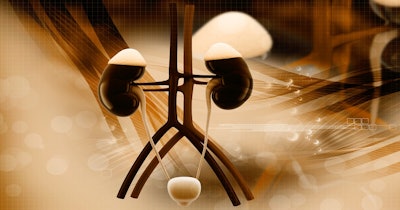 Renalytix on Thursday announced the release of new data from case studies published in Diabetic Nephropathy that underscores the importance of early risk assessment and intervention in early chronic kidney disease (CKD) while highlighting the utility of Renalytix's KidneyIntelX predictive test in clinical decisions.
KidneyIntelX combines a quantitative immunoassay with clinical data and uses a machine-learning algorithm to generate a patient-specific score for the five-year risk of progressive decline in kidney function in patients with early-stage diabetic kidney disease.
KidneyIntelX has received breakthrough device designation from the U.S. Food and Drug Administration (FDA); additionally, Renalytix has submitted for de novo marketing authorization for the test.
More than 850 million people globally have CKD; according to the Centers for Disease Control (CDC), it affects more than 37 million people -- 15% of the adult population -- in the U.S. Of those, 15 million have both CKD and type 2 diabetes; around 90% of these patients with diabetic kidney disease are in the early stages of CKD.
The Diabetic Nephropathy article highlights the need for early clinical management for patients at higher risk of developing rapid kidney function decline. Furthermore, a review of the data underscored the effectiveness of KidneyIntelX in identifying patients at greatest risk of decline into kidney failure at the earlier stages, when progression can be slowed.
"Standard risk stratification tools for progression of kidney disease have limitations, and lack precision at an individual level," the authors wrote in the article. "Individualized risk tools, such as KidneyIntelX, that incorporate well-validated prognostic protein biomarkers integrated with key clinical variables and are integrated into the electronic health record (EHR) can help address these challenges. KidneyIntelX can identify patients earlier in their disease course when intervention would be most impactful."
The review also emphasized the importance of primary care in the fight against CKD, citing patient awareness and education about the condition as essential to early intervention in disease progression, as well as the need for accurate, robust risk assessment as guidance for primary care physicians to improve patient care and outcomes.