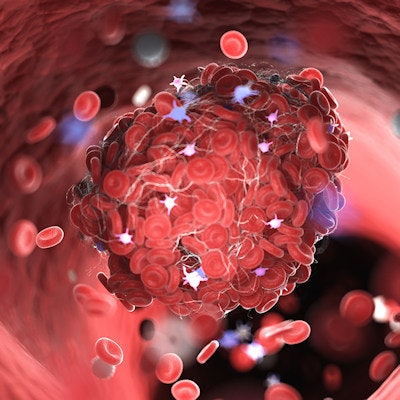 The 2021 global market for lab-based and point-of-care (POC) coagulation tests neared $4 billion in 2020, with prothrombin time (PT) and d-dimer tests leading revenues, according to Bruce Carlson of Kalorama Information.
Hemostasis (coagulation) is a complex process in which multiple enzymes and proteins regulate blood flow and clot formation. Coagulation (clot formation), fibrinolysis (the breakup of blood clots), and platelet aggregation are a part of this process.
Anticoagulant drugs help prevent blood platelets from sticking or clumping together, reducing the likelihood that arteries will be blocked by a clot, leading to a stroke or heart attack.
The most widely used drug is warfarin (Coumadin), prescribed for patients with atrial fibrillation, artificial valves, and phlebitis. People on Coumadin need to have their blood monitored regularly (sometimes weekly and sometimes monthly) to ensure that they are taking the right dosage to avoid clotting if the dosage is too low or unintentional bleeding if the dosage is too high. This is done with a blood clotting test known as the International Normalized Ratio (INR, formerly known as the Prothrombin Time test).
Proponents of PT/INR self-testing claim that daily or weekly testing at home helps patients maintain better anticoagulant activity -- not too much and not too little.
There are newer oral anticoagulants on the market, such as rivaroxaban (Xarelto), apixaban (Eliquis), and dabigatran (Pradaxa). They are at least as safe and effective as Coumadin, and they do not require regular coagulation monitoring with a PT/INR. However, hematologists will use immunoassays to measure the amount of drug concentration in a patient's blood to assure that the amount of drug is in the therapeutic range. This is akin to therapeutic drug monitoring by immunoassay of antibiotics (gentamicin), antiepileptics (such as carbamazepine, phenytoin, and valproic acid), and antipsychotics (such as pimozide and clozapine).
Companies in the market include the following:
Abbott Diagnostics
ARUP Laboratories
Diagnostica Stago
Dabigatran
Diagon Ltd
Human Diagnostics
Roche
Sekisui Diagnostics
Siemens
Sysmex
Roche
Roche launched the CoaguChek XS mPOC App for use with the CoaguChek XS meter. The app, CoaguChek Vantus, makes the Bluetooth-enabled PT/INR reporting offered by CoaguChek Patient Services more convenient and accessible by allowing patients to use their own iOS device (iPhone or iPad). The app is available exclusively to patients who test PT/INR with the support of CoaguChek Patient Services. Wireless-enabled patient self-testing with CoaguChek Patient Services enables healthcare providers to confidently monitor reported patient PT/INR data remotely.
For lab-based testing, Roche received FDA clearance to market its multiplex Factor II and Factor V test for use on the Cobas 4800 system, which performs real-time polymerase chain reaction (PCR) analysis for mid- to high-volume labs. Roche noted that the clearance expands the menu of the Cobas 4800 system and enables labs to consolidate genomics, oncology, microbiology, and virology testing onto a single platform. Roche added that the test also complements a recent CE approval of the Cobas t 511 and Cobas t 711 coagulation analyzers, which are suitable for central labs performing coagulation and thrombophilia testing.
Sysmex
An arrangement between Dade Behring (now part of Siemens Healthineers) in 1995 introduced Sysmex's coagulation analyzers to the U.S. market. In 2012, the companies announced that the partnership was extended to 2018. In April 2016, Sysmex and Siemens announced an extension to their partnership through at least 2020. The contract extension adds a minimum of two additional years to the global supply, distributorship, and sales and service agreement for hemostasis products. The companies, which began collaborating more than 20 years ago, also agreed to continue joint hemostasis product development activities that will streamline and optimize testing in laboratories throughout the world.
In the past few years alone, the companies have introduced several advanced Innovance reagents and multiple new platforms for various laboratory settings, including the recent worldwide launch of the Sysmex CS-2500 System, and the U.S. launch of the Sysmex CS-5100 System with optional track-based automation.
In July 2020, Sysmex launched new products including the Automated Blood Coagulation Analyzers CN-6500/CN-3500. These new offerings from Sysmex come with a measuring unit using the chemiluminescence enzyme immunoassay methodology (CLEIA), which the company cultivated in its Automated Immunoassay Systems HISCL-5000/HISCL 800 (HISCL), on top of the unique features of the Automated Blood Coagulation Analyzers CN-6000/CN-3000, making it possible to measure blood coagulation testing parameters, including molecular markers for blood coagulation with a single device.
Werfen
Werfen subsidiary Instrumentation Laboratories (IL) has been a leader in the coagulation arena for many years. The IL Hemostasis portfolio includes the new ACL Top Family 50 Series Hemostasis Testing Systems and the original ACL Top Family of Hemostasis Testing Systems, fully automated, high-productivity analyzers. IL offers HemoCell Specialized Lab Automation and HemoHub Intelligent Data Manager. IL also offers the ACL AcuStar, ACL Elite, and other Hemostasis analyzers, along with the comprehensive HemosIL line of reagents.
IL reported the ACL TOP Family of fully automated analyzers is the leading Hemostasis product line in the world. The ACL Top family of instruments is comprised of ACL TOP 300 CTS, ACL TOP 500 CTS, ACL TOP 700, ACL TOP 700 CTS, and ACL TOP 700 LAS models.
The fully automated HemosIL assay portfolio, including routine and specialty testing, is designed for disease-state management. The HemosIL HIT-Ab(PF-H) assay provides the first, liquid, ready-to-use, fully automated, on-demand assay for heparin-induced thrombocytopenia (HIT) on a hemostasis testing system.
For whole-blood coagulation testing, IL offers rotational thromboelastometry (ROTEM) viscoelastic testing systems, the Hemochron Signature Elite system and VerifyNow platelet-reactivity testing system. These devices inform key clinical decisions regarding transfusions, bleeding risk, and anticoagulant dose adjustment during surgical and interventional procedures.
Bruce Carlson is the publisher of Kalorama Information, part of Science and Medicine Group.
Disclosure: LabPulse.com is a sister company of Kalorama Information.