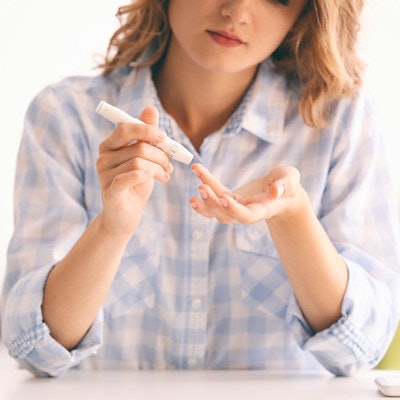 Glucose testing markets are expected to reach a market valued at nearly $20.4 billion in 2022, according to the latest issue of the In Vitro Diagnostics Business Outlook.
With a compound annual growth rate (CAGR) anticipated at 5.9%, the market is expected to reach $27.1 billion by 2027, said the report published by LabPulse.com's sister brand Kalorama Information.
Growth is expected from the demand for continuous glucose monitoring technologies as they become widely adopted in developed markets and are a growing trend in developing regions, the report said.
The glucose measurement over-the-counter market, representing 41% of the overall market, is expected to reach $8.5 billion by 2027, it noted.
Continuous glucose monitoring, meanwhile, represents about 40% of the overall market and is expected to reach $14 billion in 2027, growing at a CAGR of 11.2%.
HbA1c point-of-care testing represents another fast-growing segment. According to Kalorama, it's expected to reach $950 million by 2027, growing at a CAGR of 7.8%.
Rounding out the overall market for glucose testing, glucose professional point-of-care testing currently represents about 10% of the overall market and laboratory based HbA1c testing represents about 6%, according to Kalorama.
"The number of elderly individuals is increasing, leading to a higher demand for new and better glucose monitoring technology products," said the In Vitro Diagnostics Business Outlook. "[The] new continuous glucose monitoring and sensor market is driving response to increased healthcare needs of an aging population, new wireless technologies, better video and monitoring technologies, decreasing healthcare resources, an emphasis on reducing hospital days, and proven cost-effectiveness."
The major companies in this segment -- Abbott, Medtronic, and Dexcom -- are working with multiple-generation devices to offer closed-loop continuous glucose monitoring (CGM) systems that involve a meter (sensor), transmitter, and insulin pump. "These companies compete in an exciting emerging test segment. However, there has been an increase in the number of companies offering CGM devices," Kalorama said.
According to the World Health Organization, 420 million people worldwide had diabetes as of 2021, with deaths from diabetes projected to rise by more than 50% in the next 10 years. According to Glucose Testing International Diabetes Federation estimates, 60 million adults in Europe had diabetes in 2020; this is projected to increase to 67 million by 2045.
The American Diabetes Association states that diabetes is the primary cause of death for more than 83,564 Americans each year and contributes to the death of more than 282,801 Americans annually, Kalorama noted.