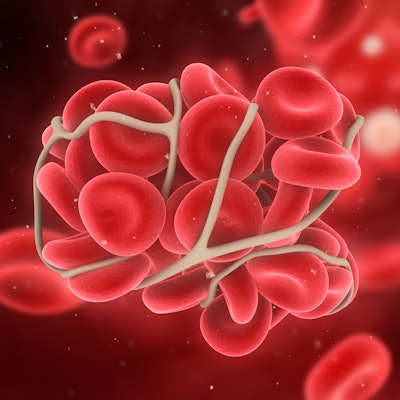 Researchers at Australia's Monash University have developed a simple, cheap, portable diagnostic that can test for levels of fibrinogen in blood in less than four minutes.
Fibrinogen is a protein necessary for blood clotting, and typically in emergency situations patients must be transported to a hospital or emergency center for diagnostic testing before treatment. Using a glass slide, Teflon film, and a piece of paper, the test can be performed using a fresh whole blood sample, and it removes the need for centralized hospital equipment to detect, monitor, and treat fibrinogen levels.
Researchers from Monash University's chemical engineering department and the Bioresource Processing Institute of Australia (BioPRIA) developed the diagnostic in collaboration with Haemokinesis. The assay can be scaled into a point-of-care tool and placed in ambulances and other first responder vehicles.
A premixed droplet of a blood sample and an enzyme solution are placed onto a solid surface, allowing the blood to clot, and then a paper strip is placed on top. The further the blood moves down the strip of paper, the lower the fibrinogen concentration. The test works with a variety of blood conditions, and diluting blood samples not only increases the test's sensitivity but also eliminates the effect of interfering substances in the blood, the researchers said.