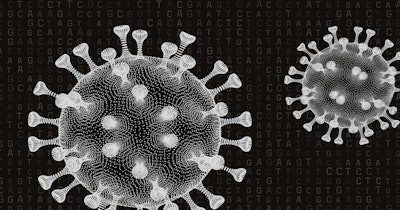 Research led by the University of Liverpool and Imperial College London found that antibodies produced in the nose decline nine months after COVID-19 infection, while antibodies in the blood last at least a year.
The research, published on Monday in eBioMedicine, helps explain why people who have had COVID-19 are at risk for reinfection, and calls for the development of vaccines that boost nasal antibodies. The study was jointly funded by the National Institute for Health and Care Research, UK Research and Innovation, and the Medical Research Council.
Antibodies in the nasal fluid -- called immunoglobulin A, or IgA -- block SARS-CoV-2 virus when it first enters the respiratory tract, providing a first line of defense that prevents the virus from entering cells and causing infection. However, these nasal antibodies are only present in recently infected people and are particularly short-lived against the Omicron variant. Vaccines effectively create and boost blood antibodies which prevent severe disease, but have little effect on nasal IgA, which prevents infection and transmission.
The researchers sought to understand how long nasal antibodies lasted compared with blood antibodies, and the effect of subsequent COVID-19 vaccines on both. They studied 446 people who had been hospitalized with COVID-19 between February 2020 and March 2021, prior to the arrival of both Omicron and vaccines. Samples were taken when people were hospitalized, six months later, and one year later, as well as before and after vaccination, to measure how well their antibodies neutralized the original SARS-CoV-2 virus, and the Delta and Omicron variants.
Of those who had been vaccinated (323 people), 95% (307 people) received their first vaccination during the study follow-up period. Vaccination led to increases in all nasal and blood antibodies, but the nasal IgA change was small and temporary. The participants' sex, disease severity, and age did not impact how long their nasal immunity lasted.
Participants' blood antibodies continued to bind the original SARS-CoV-2 virus, and the Delta and Omicron variants a year after infection, but booster vaccines were needed to maintain this immunity. Participants were not screened for reinfection, but preliminary analysis found only two cases.
The study suggests that nasal IgA is separate from other immune responses; although it lasts only about nine months, booster vaccines can increase it slightly and otherwise effectively protect against severe disease and death. The researchers said direct studies of nasal antibodies and reinfections are needed for confirmation.
"It's now essential to also develop nasal spray vaccines that can provide better protection against infection," said Imperial College co-senior author Peter Openshaw, in a statement. "It's brilliant that current vaccines mean fewer people are becoming seriously ill, but it would be even better if we could prevent them from getting infected and transmitting the virus."