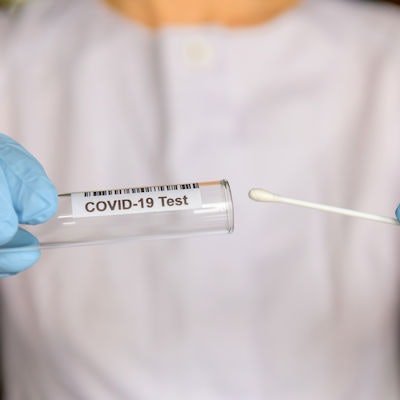 Saliva may be a reliable and cost-efficient way to diagnose COVID-19, according to a study published on February 5 in the Journal of Evidence-Based Dental Practice. Saliva-based tests were found to be roughly as reliable as nasopharynx or throat swabs.
While nasopharyngeal or throat swabs are more widely used for COVID-19 testing, these types of diagnostics are uncomfortable and costly. Researchers looked at 2,095 patients to understand whether saliva tests could be an alternative for detecting the novel coronavirus.
"Studies have demonstrated the validity of fast and inexpensive preventive salivary testing against other viruses (e.g., HIV and Zika) for use in laboratory and home settings," wrote the authors, led by Dr. Ahmed Yaseen Alqutaibi, PhD, of the dental college at Taibah University in Saudi Arabia. "Since the oropharyngeal cavity has high SARS-CoV-2 RNA, saliva can be an excellent diagnostic fluid for COVID-19 monitoring."
Current COVID-19 tests are costly and produce a large number of false-negative results -- in addition, getting samples can be risky to essential workers and irritate patients. Saliva, the authors argue, is a good alternative method of diagnosing COVID-19 while lowering risks to those taking and receiving the test.
The researchers gathered data through an electronic search conducted on July 22, 2020. Their analysis included 28 case reports and series, case-control, cross-section, and prospective observational studies. The goal was to determine whether saliva could serve as a good indicator of SARS-CoV-2 infection.
Twenty-five studies evaluated COVID-19 markers in adults and three evaluated them in children. All 28 of the studies found the novel coronavirus present in saliva.
Using saliva samples to diagnose COVID-19 could save money on testing, the researchers found. They calculated that it cost $8.24 for 100 saliva specimens, compared with $104.87 for 100 nasopharyngeal swabs.
Furthermore, nine of the studies compared the saliva test with throat and nasopharyngeal swabs, described as the gold standard. The authors reported that sensitivity ranged from 67% to 92%, while specificity ranged from 97% to 100%.
The researchers also found that saliva collected during the day had a lower rate of correlation with the nasopharyngeal swabs than saliva collected in the early morning.
"The detection of SARS-CoV-2 in the saliva of patients with COVID-19 has been confirmed, with diagnostic performance comparable to the current standards," the group wrote.
Individual studies used as data did have a risk of bias that was omitted from the report, something the authors said was a weakness in the findings. Also, the included papers missed some data that made reaching accurate conclusions difficult at times, they noted.
The authors argued that a more standardized sample collection should be analyzed in future studies. They also praised the use of saliva samples as a cost-effective, noninvasive, and safer tool for population-level screening.
"As health professionals are not required for the collection, it will reduce the risk of hospital transmission to healthcare workers and other patients," they wrote. "Additionally, the use of salivary samples eliminates the waiting time; therefore, the results would be available in a shorter time, which is essential during a pandemic."