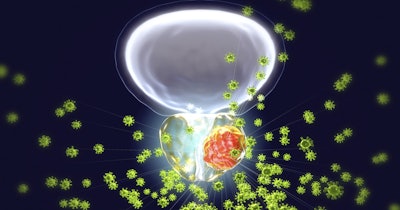 A blood test has differentiated between localized and metastatic prostate cancer in a small pilot study, suggesting it may be able to help optimize treatment of the tumor type.
Around 30% of people experience rises in levels of prostate-specific antigen (PSA), a biomarker associated with cancer recurrence, after having their prostate removed surgically. The rise in PSA can result from small metastases or the remnants of the cancer left behind in the prostate bed. Because imaging may fail to detect micro-metastases, physicians are sometimes unsure of the cause of the PSA rise.
The uncertainty makes it hard to determine the best course of treatment. Radiation therapy can treat the cancer remnants left behind after surgery, but it has risks and will not stop disease progression if a patient has metastases.
Writing on Thursday in nanotoday, researchers at Cedars-Sinai Cancer describe work to develop a blood test capable of informing treatment decisions. While other blood tests look for circulating tumor DNA and circulating tumor cells, the investigators saw the inability to trace transcriptomic changes in DNA and the cost and time needed to isolate and preserve cells as barriers to their use in the prostate cancer test.
Extracellular vesicles (EVs) are free from those limitations. The phospholipid bilayer-enclosed particles carry genetic materials including mRNA between cells and can potentially characterize prostate cancer. However, isolating cancer EVs from non-tumor EVs is challenging.
The Cedars-Sinai scientists developed a microfluidic device coupled with a nanosurface to overcome the challenge. In the new study, the researchers applied the technology, which they named EV Click Chip, to samples from 40 prostate cancer patients, split evenly between localized and metastatic cancers, and compared the performance to the ultracentrifugation and precipitation methods of purifying EVs.
EV Click Chip outperformed the other technologies. Recovery yield was significantly higher, and the test differentiated between localized and metastatic cancers with an area under the curve of 0.88. On that scale, 0.5 indicates a test is no better than random and 1.0 indicates perfect accuracy.
"The test is fast, minimally invasive and cost-effective, and opens up a new suite of tools that will help us optimize treatment and quality of life for prostate cancer patients," Dr. Edwin Posadas, co-director of Cedars-Sinai Cancer's experimental therapeutics program, said in a statement.
Posadas and his collaborators now plan to work with local and national partners with a view to moving the test into clinical practice "in the near future."