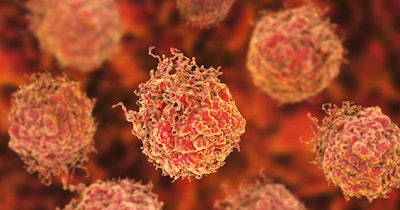 Scientists have found a way to reverse prostate cancer's resistance to drugs in research, which they say could have a broad impact across multiple cancer types.
The research team successfully targeted "feeder" myeloid white blood cells, which are used by tumors to help fuel cancer growth, progression, and resistance to treatment. The method, which uses a combination of drugs, shrank tumors or halted their growth in a small number of patients.
"This is tremendously exciting, and it suggests we have an entirely new way to treat prostate cancer on the horizon," said study leader Johann De Bono, a professor in experimental cancer medicine at the Institute of Cancer Research (ICR) in London and a consultant medical oncologist at the Royal Marsden National Health Service Foundation Trust.
The study, an early clinical trial, was led by the ICR, The Royal Marsden, and The Institute of Oncology Research (IOR) in Switzerland, with findings published in Nature. Scientists recruited 23 patients with advanced prostate cancer who had stopped responding to hormone therapy. They tested an experimental drug, AZD5069, which prevents myeloid cells from feeding tumors, in combination with enzalutamide, a hormone therapy commonly used to treat prostate cancer, in patients with advanced disease.
The results showed that blocking the messages cancer uses to "hijack" white blood cells can "resensitize" a subset of advanced prostate cancers to treatment, shrinking tumors or halting their growth. Of 21 patients who could be evaluated, five (24%) responded to the treatment, meaning that their tumors shrunk by over 30%.
These patients had dramatic decreases in circulating levels of prostate specific antigen (PSA), a marker secreted by the prostate that is often elevated by cancer, or their blood levels of circulating tumor cells dropped. Blood levels of myeloid cells also dropped in patients who received treatment, and biopsies following treatment also revealed fewer myeloid cells within their tumors.
The research team has been studying myeloid cells for many years after they noticed that they were elevated in patients with much more aggressive tumors. They have previously demonstrated in laboratory studies that these cells could promote prostate cancer growth, with their inhibition blocking tumor progression.
"It's hugely rewarding to see our theory proven in a trial of patients with this disease. Myeloid cells may be implicated in treatment resistance in a range of cancers, so the impact of this research could be very broad, across multiple cancer types," De Bono said.
The study was largely funded by leading cancer charities, with other funders including the global charitable foundation Wellcome and AstraZeneca.
Dr. Matthew Hobbs, director of research of one of these charities, Prostate Cancer UK, said it was "exciting" to find a "completely new, safe, effective way to treat advanced prostate cancer without resistance."
"Now we want to see pharmaceutical companies working with researchers to develop new drugs based on what we've learnt, and to test them in larger trials -- turning research into reality for men," Hobbs said.