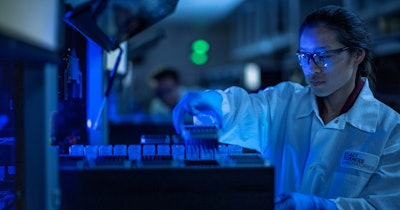 Exact Sciences on Tuesday announced results from a pivotal study, BLUE-C, showing that its next-generation Cologuard test demonstrated a 30% lower false-positive rate compared to its on-market Cologuard test.
The firm compared the performance of the next generation test with how its on-market test performed in a U. S. Food and Drug Administration (FDA) registrational trial called DeeP-C.
By the end of this year, Exact Sciences expects to apply to the FDA for marketing clearance of next-generation Cologuard.
"Next-generation Cologuard will set a new performance standard," Kevin Conroy, chairman and CEO of Exact Sciences, said in a statement. "We are harnessing deep scientific insights, advanced technology, and over a decade of research and development to detect colorectal cancer with greater sensitivity and significantly improve the false positive rate. Once approved, next-generation Cologuard will meaningfully enhance the patient experience, and it comes at a critical time – when there are 60 million Americans not up to date with screening."
BLUE-C is a multicenter, prospective study of more than 20,000 adults 40 years of age and older designed to evaluate the performance of next-generation Cologuard, a multi-target stool DNA test.
Using colonoscopy as a reference method, the study directly compared multiple screening tests, including next-generation Cologuard and a fecal immunochemical test (FIT). Blood samples were also collected for later evaluation of a blood-based screening test being developed by Exact Sciences.
"The results from this large study of a representative population provide affirmation that Exact Sciences continues at the forefront of noninvasive screening," Dr. Thomas Imperiale, professor of medicine at the Indiana University School of Medicine, said in a statement.
Imperiale is a research scientist at the Regenstrief Institute and the principal investigator for BLUE-C.
"These new results suggest improved performance of an mt-sDNA test, strengthening the case for molecular stool-based testing," he said.
Developed in partnership with Mayo Clinic, next-generation Cologuard uses novel biomarkers and improved laboratory processes, according to Exact Sciences. It also incorporates enhanced sample stability components to provide patients more time to return their sample to Exact Sciences' lab and increase the valid result rate, the firm added.
Exact Sciences said that in the coming months, it plans to release additional analyses of the BLUE-C data and complete its application to the FDA for approval of next-generation Cologuard.
In a separate announcement on Wednesday, the company noted that it has inked agreements with Broad Institute of MIT and Harvard to provide an exclusive license to next-generation technology for ultra-sensitive detection of molecular residual disease (MRD) and ongoing research. It is also collaborating with Baylor Scott & White to create real-world evidence to support Exact Sciences' multicancer early detection (MCED) approach.