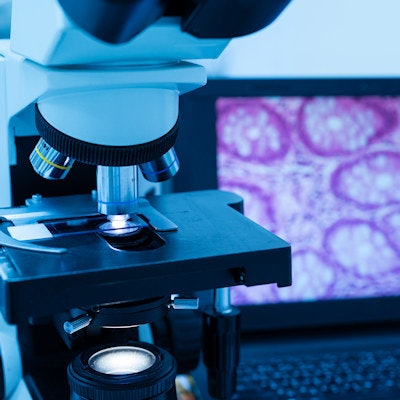 Digital pathology firm PathAI announced it will participate in three presentations that describe its technologies at the International Liver Conference 2022 in London on June 22-26.
The presentation abstracts describe the use of a new machine learning-enabled continuous scoring system for nonalcoholic steatohepatitis (NASH), the firm said.
The scoring system enables a nuanced analysis of treatment efficacy and capabilities to predict disease progression in patients with advanced fibrosis due to NASH, PathAI added.
In addition, the company will highlight a new method for imaging fibrosis in liver biopsy slides, which it said could eliminate the second set of trichrome stain slides that historically have been required.
The abstracts are titled as follows:
Retrospective AI-based measurement of NASH histology (AIM-NASH) analysis of biopsies from phase 2 study of Resmetirom confirms significant treatment-induced changes in histologic features of non-alcoholic steatohepatitis (Abstract #3625).
Machine learning-enabled continuous scoring of histologic features facilitates prediction of clinical disease progression in patients with non-alcoholic steatohepatitis (Abstract #37).
Quantitative multimodal anisotropy imaging enables automated fibrosis assessment of H&E-stained tissue (Abstract #3370).