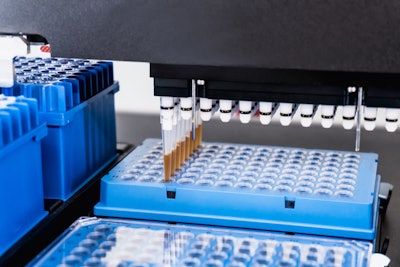 Thermo Fisher Scientific on Monday said it has launched the TaqPath Enteric Bacterial Select Panel, a CE-IVD marked panel to detect common gastrointestinal bacteria in about two hours.
The test enables clinicians to identify the root cause of an infection and administer the most appropriate treatment to their patients more quickly, Thermo Fisher said.
Specifically, the panel leverages PCR technology to analyze stool samples for a range of common gastrointestinal bacteria, including Salmonella spp., Shigella spp., enteroinvasive E. coli, Campylobacter jejuni, Campylobacter coli, and Campylobacter upsaliensis.
With results available in about two hours at greater than 98% sensitivity and specificity, the panel compares favorably with the culturing of samples in a laboratory, which can take up to two weeks, Thermo Fisher noted.
"Detecting these different pathogens in a single test can preserve precious lab resources while still providing clinicians critical information needed to make the right treatment decisions for their patients," Dr. Manoj Gandhi, senior medical director of genetic testing solutions at Thermo Fisher, said in a statement.
The testing panel was validated and registered under the In Vitro Diagnostic Medical Devices Directive in May.