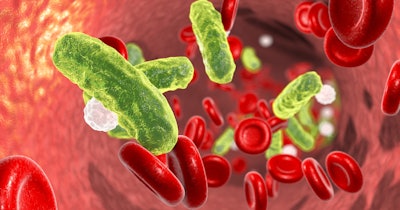 A nonprofit health system in North Carolina has adopted a molecular test that analyzes a patient's immune system to detect sepsis.
FirstHealth of the Carolinas, a nonprofit health system licensed for four hospitals in North Carolina, will use Immunexpress' SeptiCyte Rapid test to help differentiate sepsis-positive cases from patients with infection-negative systemic inflammation. The cartridge-based test quantifies the relative expression levels of genes involved in a patient's immune response to infection and generates a score that indicates the likelihood of sepsis, according to Immunexpress. Specifically, it uses reverse transcription polymerase chain reaction technology to quantify the relative expression levels of host-response genes isolated from whole blood.
Immunexpress, which designed the test to deliver results in one hour for patients suspected of having sepsis, received 510(k) clearance from the U.S. Food and Drug Administration in 2021. Dr. Russell Miller III, medical director of critical care services at FirstHealth, participated in the validation of SeptiCyte Rapid.
"After my involvement in the clinical validation of SeptiCyte Rapid, I wanted to bring SeptiCyte Rapid to our hospital because we believe it has a role in helping us identify true sepsis cases earlier, with the expectation that with earlier identification, we can mitigate the severity of a sepsis episode or progression to septic shock," Miller said in a statement from Immunexpress.