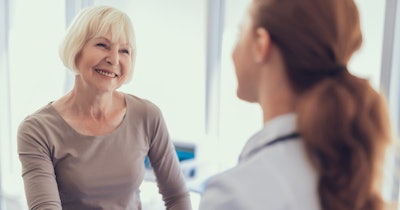 BioMérieux this week announced it has received a U.S. Food and Drug Administration (FDA) Clinical Laboratory Improvement Amendments (CLIA) waiver for its multiplex polymerase chain reaction (PCR)-based Biofire Spotfire Respiratory Panel Mini.
In about 15 minutes, the panel detects five of the most common viral causes of upper respiratory tract infections: SARS-CoV-2, influenza A, influenza B, respiratory syncytial virus (RSV), and rhinovirus.
"The inclusion of rhinovirus into this syndromic panel increases clinicians' ability to provide their patients with a definitive result compared to the other respiratory tests available in the United States which contain only the other [one to four] viruses" Mark Miller, the firm's executive vice-president and chief medical officer, said in a statement.
The test runs on the Biofire Spotfire system, a small, scalable, multiplex PCR platform designed to bring diagnostic test results to the decentralized point-of-care (POC) clinical setting. The system can run a large multiplex respiratory test in the 12-25 pathogen target range or a small multiplex respiratory test in the three to five pathogen target range.
The CLIA waiver allows the system and its two existing respiratory panels to be used by non-lab professionals at the point of care.
The CLIA waiver for the mini-panel follows its FDA 510(k) clearance in April. The newly waived panel is the second multiplex PCR-based test cleared for use on the Biofire Spotfire system. The system and a 15-target respiratory panel received FDA-clearance and CLIA-waiver in February 2023.