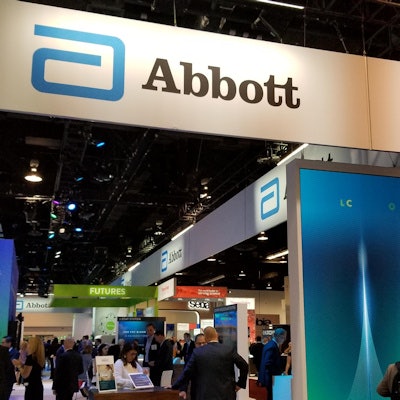 Abbott Diagnostics has released interim clinical data showing its Rapid ID Now COVID-19 molecular test performed well compared to standard laboratory polymerase chain reaction (PCR) tests and that it is more accurate early in the onset of symptoms.
The company reported test performance as compared with lab-based PCR tests in various healthcare settings:
≥ 94.7% positive agreement (sensitivity) and ≥ 98.6% negative agreement (specificity) in an urgent care clinic study
91.3% positive agreement and 100% negative agreement in a study conducted at the Everett Clinic in Everett, WA
≥ 83.3% positive agreement and ≥ 96.5% negative agreement in an ongoing study of hospitalized and nursing home patients tested with late symptom onset
"Data from these studies suggest [ID Now] performs best in people tested earlier after they first begin experiencing symptoms," the company said in a statement.
Research indicates that "even the most sensitive lab-based molecular tests can have false negatives when viral load levels are ramping down, near the end of the infection cycle when viral load winds down and patients may no longer be infectious," the company added.
Performance had come under scrutiny in studies, and the U.S. Food and Drug Administration (FDA) recently alerted the public that there have been reports of inaccuracies associated with the ID Now COVID-19 test. The FDA had advised that negative results be confirmed with a high-sensitivity authorized molecular test and requested postmarket studies from Abbott.