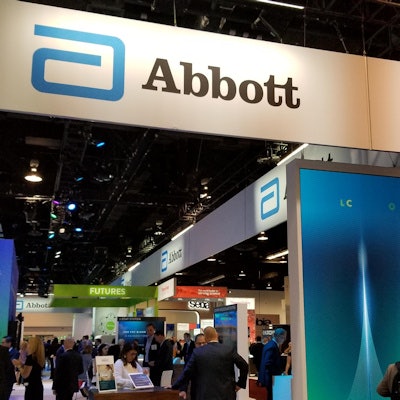 The U.S. Food and Drug Administration (FDA) has issued an emergency use authorization for a COVID-19 antigen test developed by Abbott Diagnostics Scarborough from which results can be read directly from the testing card.
"This new COVID-19 antigen test is an important addition to available tests because the results can be read in minutes, right off the testing card," said Dr. Jeff Shuren, director of the FDA's Center for Devices and Radiological Health, in a statement released by the FDA. "This means people will know if they have the virus in almost real-time."
A nasal sample from the patient is placed on Abbott's BinaxNow COVID-19 Ag Card and a reagent is added; after 15 minutes, the results appear, with one line indicating a negative result and two lines a positive. The test has shown a sensitivity of 97.1% and specificity of 98.5%, according to the FDA.
Abbott's BinaxNow COVID-19 Ag Card can be used in doctor's offices, emergency rooms, or perhaps even schools, according to the FDA. The company plans to make a free phone app available for the test which will allow patients to display their test results when asked by organizations like workplaces and schools. It also plans to make up to 50 million of the tests available in the U.S. each month by October.
"Due to its simpler design and the large number of tests the company anticipates making in the coming months, this new antigen test is an important advancement in our fight against the pandemic," Shuren said.
Abbott said it planned to sell the BinaxNow test for $5. The test uses the company's lateral flow technology, which makes it reliable and a familiar format for frequent mass testing, according to Abbott. Because it does not require equipment, the BinaxNow test will help healthcare providers quickly identify those who are infected with SARS-CoV-2 so they don't spread the disease to others, the company noted. It can also be used in the point-of-care setting.