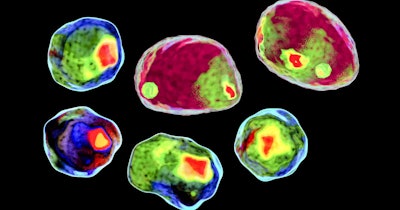 University of Birmingham spinout ChromaTwist said Monday it has secured 487,000 pounds ($571,438 U.S.) of equity investment to develop a new class of fluorescent dyes for the flow cytometry reagent market.
This second round of equity investment brought in funds from directors, existing angel investors, angel groups, and the University of Birmingham. It will allow the company to continue product development with industry partners and enable rapid development of products for market entry by 2023, ChromaTwist said.
Flow cytometry -- an analytical technique used by hospital laboratories, the pharmaceutical industry, and university research departments for medical research, vaccine and drug development, and disease diagnosis -- uses dyes to detect or measure the characteristics of cells or particles.
One of the central challenges in flow cytometry is multiplexing -- i.e., the ability to detect multiple targets from the same sample. Dyes in development by ChromaTwist have a large range of signaling colors, which should enable simultaneous tests on a single sample, increasing throughput and output speeds from current flow cytometry equipment, the firm said.
The funding builds on initial grant funding of 347,000 pounds from Innovate UK, 90,000 pounds in funding from the company directors in 2019, and a first equity funding round of 430,000 pounds from the directors, angel investors, and the University of Birmingham in 2021.
Since then, ChromaTwist has developing a proof-of-concept product and conducted initiating testing with companies operating in the flow cytometry reagent market. The market for flow cytometry reagents is showing significant growth, with an estimated value of $2.9 billion by 2027, according to ChromaTwist.
The company said it is also evaluating longer-term opportunities in other sectors, including security inks and applications in organic electronics, having demonstrated that the materials can be incorporated into organic photovoltaics (OPVs) and organic light-emitting devices (OLEDs) as the active element.
To this end, ChromaTwist has sold 18 of its dyes to Sigma-Aldrich and is seeking discussions with companies about potential partnerships and collaboration in these areas.