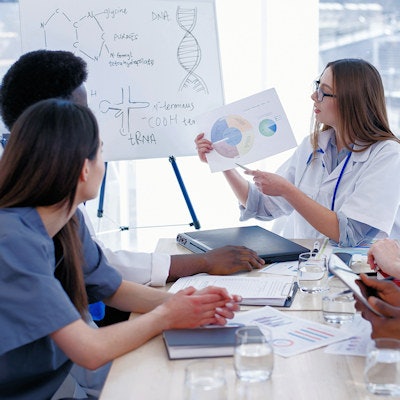 When you hear the words "lab meeting," do they evoke warm feelings of camaraderie and inspiration or the dread of tedium and dysfunction? To ensure more of the former and less of the latter, a new paper published on May 27 in PLOS Computational Biology gives 10 rules for better lab meetings -- and ultimately better science.
The rules focus on issues of diversity, equity, and inclusion, and they are intended to help science professionals make deliberate investments in long-term practices that cultivate a rich, productive lab environment.
The 10 rules emerged from years of practical experience in the laboratory of Toni Lyn Morelli, PhD, who is affiliated with the Northeast Climate Adaptation Science Center and the U.S. Geological Survey at the University of Massachusetts, Amherst (UMass Amherst).
"How does one create a diverse and inclusive lab that enables all members to bring their whole selves?" Morelli said in a statement, explaining the motivation for the rules. "What week-to-week actions can reinforce the sense of community and increase an individual's, and thus the whole group's, productivity?"
A typical meeting in Morelli's lab at UMass Amherst begins with an icebreaker to foster supportiveness and a brief reflection on the discussion ground rules and the participants' collective commitment to ensure the meeting is open, mindful, and respectful. Lab members rotate as meeting facilitators each week.
The 10 rules are as follows:
Define the mission and objectives: Lab meetings will be most effective and productive if they have clearly articulated objectives and fit within the overall lab mission.
Identify roles and rules: All participants should have a clear understanding of their individual roles, as well as the rules of the meeting environment.
Be accessible and inclusive: Participants and especially principal investigators should use inclusive language and set up lab meetings in a way that ensures participants are able to manage their own access needs, for example through child care or assistive technologies.
Be supportive: Members should want to participate because they feel a sense of community, camaraderie, and support.
Be respectful and practice civility: Distracting behaviors -- being curt, disrespectful, insensitive, or snappy -- can strain group dynamics and potentially lead to less productive discussions.
Manage conflict: Summarize and clarify dissenting positions, encourage listening, and make sure lab members understand one another's perspectives.
Be open and curious: A commitment to open-mindedness during meetings can foster curiosity (active information-seeking) and lead to new ideas and knowledge creation.
Be mindful and present: This includes being an active listener, moderating the frequency and extent of one's own participation to allow space for others, and keeping phones silent or off.
Be aware of biases: To avoid creating a hostile environment that hinders individual productivity, it is important to be aware of and confront biases based on aspects of identity that include disabilities, gender, race, ethnicity, sexual orientation, and socioeconomic status.
Be flexible and adaptable: As participants rotate in and out of lab meetings and as their needs change, it is beneficial to regularly assess what works and what could be improved.
Morelli's lab meetings typically include one principal investigator, five to 10 graduate students, one postdoctoral fellow, and a few undergraduates and visiting students.
By formalizing the 10 rules into a high-profile research paper, the authors wanted to communicate the message that the goal of fostering diversity and inclusion in the lab can pay off in terms of not only smoother meetings but also better science.
"There is plenty of good research showing that diversity and inclusion make the science itself better," said Kadambari Devarajan, one of the lead authors of the paper and a graduate student in environmental conservation at UMass Amherst and a member of Morelli's lab.
In the end, the tips for better lab meetings should be thought of as an overall investment strategy in the professional and personal lives of lab personnel.
"Lab meetings can be some of the most memorable and rewarding moments in our academic journeys," the authors wrote. "When navigated thoughtfully, they can help foster lasting collaborations, create life-long friendships, and provide a safe harbor within academia."