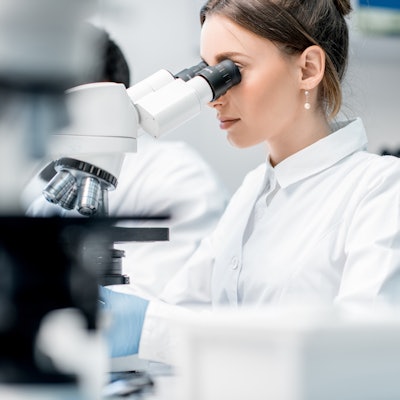 The Association for Molecular Pathology (AMP) has released the preliminary results of its August 2020 SARS-CoV-2 testing survey for clinical laboratories showing labs continue to experience supply chain interruptions and are now also facing significant staffing shortages. However, the demand for molecular diagnostic testing has increased.
The 100-question survey assessed several aspects of testing SARS-CoV-2: sample types, patient populations, methodologies, validation, performance, supply chain, public health reporting, laboratory workforce, and reimbursement. The survey responses came from 113 representatives affiliated with U.S.-based academic medical centers, commercial reference laboratories, public health laboratories, and community hospitals.
More than half (54%) of the respondents said testing demand was currently higher than their capacity, and they anticipate demand will continue to rise, especially with the fall and winter influenza season.
While demand keeps rising, staffing has not -- 85% of respondents have shortages and 66% do not have enough qualified clinical laboratory technologists/scientists. In addition, more than half (53%) do not have enough clinical laboratory technicians.
Based on the most recent survey results, as well as an earlier April survey, the AMP has two new recommendations:
Ensure that regulatory requirements are not duplicative or burdensome. Keep the U.S. Centers for Medicare and Medicaid Services (CMS) as the regulatory agency responsible for lab oversight, as specified by the CLIA program.
Support laboratory workforces through better collaboration and communication between public health, clinical laboratories, and relevant government agencies.
The AMP's previous five recommendations still stand:
Reassessing the type and location of SARS-CoV-2 testing services needed
Reprioritizing supply allocations based on clinical testing needs
Increasing transparency, communication, and real-time transmission of information between laboratories and suppliers
Ensuring real-time coordination among laboratories to offset excess capacity
Standardizing agency reporting format and processes
The AMP will continue to review the pandemic's effects on clinical practice, regulatory policy, and reimbursement.
"These survey results will be fundamental to informing potential legislation and other initiatives that could significantly improve response to the current and future pandemics," said Dr. Karen Weck, AMP president and director of the molecular genetics lab at the University of North Carolina Chapel Hill.