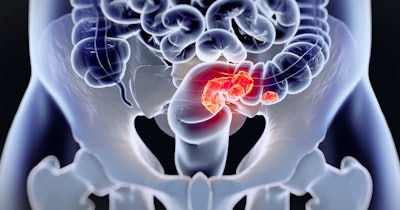 Recent Medicare policy changes are helping increase access to recommended noninvasive colorectal cancer (CRC) screening tests including Exact Sciences' DNA- and hemoglobin-based Cologuard assay, the firm said on Tuesday.
The policy updates are part of implementing Affordable Care Act (ACA) guidelines and revised regulations adopted by the Centers for Medicare and Medicaid Services (CMS).
CMS had published details of its Calendar Year (CY) 2023 Medicare Physician Fee Schedule Final Rule in November, saying that it is expanding coverage for certain colorectal cancer screening tests by reducing the minimum age payment and coverage limitation from 50 to 45 years.
"Second, we are expanding the regulatory definition of colorectal cancer screening tests to include a complete colorectal cancer screening, where a follow-on screening colonoscopy after a Medicare-covered noninvasive stool-based colorectal cancer screening test returns a positive result," Medicare said.
Exact Sciences' Cologuard, a U.S. Food and Drug Administration-approved stool-based DNA and hemoglobin screening test for adults 45 and older who are at average risk for CRC, is covered by Medicare and most major insurers. Since its launch in 2014, more than 10 million Cologuard tests have been completed, allowing patients to provide screening samples in the privacy of their homes.
"These policy changes require Medicare and most commercial insurers to pay for colonoscopy after a positive Cologuard test without cost to the patient. For most patients, these financial protections take effect starting January 1, 2023," the firm said in a statement on Tuesday.
Madison, WI-based Exact Sciences pointed to recent data, published in the American Journal of Gastroenterology, which found that eliminating patient cost-sharing for follow-up colonoscopy can lead to positive shifts in test use patterns, increase overall participation rates, and improve both economic and clinical outcomes.
"This change will help providers address a major CRC screening gap for people who were previously burdened by the cost of a follow-up colonoscopy," Dr. David Lieberman, gastroenterologist, and chairperson of the American Gastroenterological Association committee on CRC screening, said in a statement. "We know disparities exist in CRC screening. There are data which show that when we increase access to colorectal cancer screening and help navigate patients needing a follow-up colonoscopy after a non-invasive screening test, those disparities are greatly reduced."
Out-of-pocket costs for colonoscopy following positive stool-based testing, remain a barrier to increasing CRC screening rates, Exact Sciences noted. "These changes help remove a key financial barrier," the firm's chairman and CEO Kevin Conroy said in a statement.