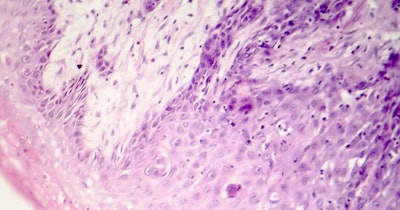 DermTech, the provider of a skin-based genomics testing platform, on Tuesday announced an agreement with a Blue Cross Blue Shield plan in Arizona that makes the DermTech Melanoma Test (DMT) available to the approximately 1.9 million plan members.
The DMT is a noninvasive way to enhance melanoma detection with a greater than 99% negative predictive value, La Jolla, CA-based DermTech said.
"The DMT test results are clinically meaningful and actionable, improve patient care, and reduce healthcare costs," Dan Visage, senior vice president of payor access at DermTech, said in a statement.
DermTech's total covered lives in the U.S. now number approximately 126 million, which includes 68 million for Medicare/Medicare Advantage and 58 million for commercial and governmental payors.
The firm initially marketed its test with the name Pigmented Lesion Assay (PLA). The PLA assesses pigmented skin lesions, moles, or dark skin spots for melanoma. It detects the expression of the LINC00518 (LINC) and preferentially expressed antigen in melanoma genes using reverse transcription-polymerase chain reaction (RT-PCR).
DermTech introduced a second-generation test in 2021 as an add-on assay to PLA. The second-generation test is designed to identify the presence of mutations in the TERT gene promoter region using DNA sequencing.
The company has since branded its PLA and TERT add-on-assay as the DermTech Melanoma Test.