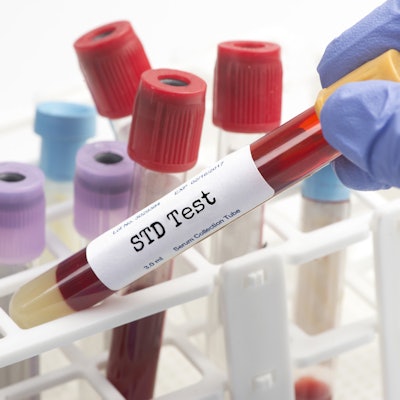 Quest Diagnostics has launched new test packages for sexually transmitted diseases (STDs) that will be sold directly to consumers as part of its QuestDirect program.
The company said the three packages are designed to meet the needs of individuals who want basic or comprehensive STD testing. It also said they are the first to be offered by a national laboratory directly for purchase by consumers.
The tests are designed to give consumers access to STD screening even if they are reluctant to approach their healthcare providers, according to Quest. A recent survey commissioned by the company found that 51% of women ages 18 to 24 don't want to discuss sex or STDs with their clinician, while 49% said their clinician has never asked them about STD testing.
Rates of syphilis, gonorrhea, and chlamydia have risen for four straight years in the U.S., and almost 2.3 million cases of STDs were diagnosed in 2017 alone, Quest said.
The STD test services are available online on Quest's website to consumers in 45 states. Test results are available on MyQuest, the company's private patient access portal. Rates start at $49 for an individual test, while packages are priced at $199.
The new STD offerings are part of QuestDirect, a program launched in November 2018 that offers more than 35 individual tests and test packages. QuestDirect services are focused on general health, men's and women's health, digestive health, heart health, infectious disease, and STD testing.