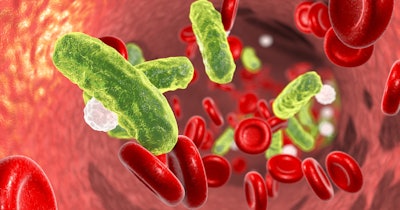 Oxford, U.K.-based Oxford Nanopore Technologies and Boston-based infectious disease diagnostics firm Day Zero Diagnostics have announced a partnership to develop an end-to-end solution for the diagnosis of bloodstream infections.
The two companies aim to build an integrated diagnostic system for use in clinical settings, combining their technologies in the fight against infections that can lead to sepsis; they will seek regulatory approvals for the proposed system, including with the U.S. Food and Drug Administration.
The proposed diagnostic system would offer "same-day identification and genomic-based antibiotic susceptibility profiling without the need for blood culture," say the firms. The system would combine Day Zero Diagnostics' ultra-high enrichment sample preparation technology and its artificial intelligence (AI)-driven Keynome microbial identification and antibiotic susceptibility pipeline with sequencing reads from Oxford Nanopore's high-throughput, small-format PromethION 2 Solo.
Sepsis is an extreme response to an infection which can occur in any part of the body. Without quick treatment, it can lead to multiple organ failure and death. Executives of the two companies say there is a critical need for rapid diagnosis of bloodstream infections that can deliver results in hours to guide therapy.
"Culture free, same day, organism identification and antimicrobial susceptibility profiling directly from native samples will be a game changer for infectious disease diagnostics, directly enabling early, targeted life-saving treatment for patients," said Jong Lee, Day Zero Diagnostics' co-founder and CEO.
"Our hope is that the rapid results, high accuracy and accessibility of the Oxford Nanopore system, combined with Day Zero Diagnostics' expertise and workflow, will make it possible for more people to access a solution that's fast and effective in the fight against bloodstream infections," Gordon Sanghera, CEO of Oxford Nanopore Technologies, said.
Day Zero Diagnostics has also signed an agreement to use Oxford Nanopore's sequencing and analysis as part of its epiXact lab services for commercial customers looking to conduct research and track and manage infection outbreaks.