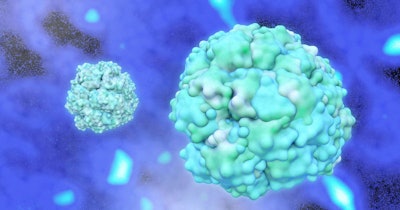 Diagnostics company Veracyte announced on Monday that new data from a study published in European Urology Oncology indicate that Veracyte's Decipher Prostate Genomic Classifier could help identify prostate cancer patients with micrometastatic disease who may benefit from intensified systemic treatment.
In micrometastatic disease, tumor cells which are difficult to detect have extended beyond the prostate.
The 22-gene Decipher Prostate Genomic Classifier provides a score ranging from 0 to 1, categorizing risk of metastasis as low (<0.45), intermediate (0.45-0.60), or high (>0.60). It is currently being evaluated in two Phase III clinical trials as a predictive biomarker to guide intensifying or reducing systemic therapy (clinical trials NRG-GU009, NRG-GU010).
Using data from 4,625 prostate cancer patients who met the criteria for high-risk or very high-risk extraprostatic disease or met the high-risk criteria for the STAMPEDE clinical trial, the researchers correlated the individual patients' Decipher Prostate scores with the probability of upstaging. The probability of upstaging was calculated using a validated clinical algorithm for prostate-specific membrane antigen (PSMA) positron emission tomography (PET) positivity. The published data show that the Decipher Prostate scores for these patients with high-risk and very high-risk disease were highly correlated with the upstaging predictions, Veracyte said.
"Prostate cancer patients with clinically high-risk and very high-risk disease are prone to treatment failure due to micrometastatic disease that was not detected at the time of initial presentation, so it is imperative that we have tools to accurately identify these patients and intensify their treatment accordingly," Amar Kishan, an investigator for the study, said in a statement.
Kishan is vice chair of clinical and translational research and chief of the Genitourinary Oncology Service, UCLA Jonsson Comprehensive Cancer Center.