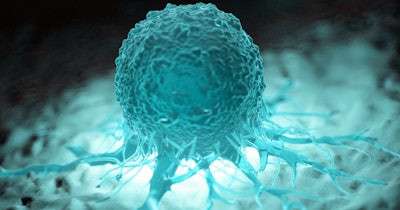 Dxcover is aiming to launch its brain cancer blood test to support the triage of symptomatic patients in Europe in 2025.
The Glasgow, Scotland-based oncology diagnostics firm's test applies infrared light to blood samples to predict whether a patient has cancer. The concept is underpinned by evidence that the interaction between the light and molecules in blood samples generates a biological signal. That signal is classified by a machine-learning algorithm to predict whether a patient has cancer.
In 2021, researchers at Dxcover, then known as ClinSpec Diagnostics, published a paper on the use of the technique to diagnose brain tumors. The test predicted the presence of glioblastoma, the most common and aggressive type of brain tumor, with 91% sensitivity and 80% specificity. Sensitivity across all brain tumors was 81%.
The study, which linked the test to negative and positive predictive values of 95% and 45%, respectively, informed Dxcover's decision to make brain cancer its first target indication. As 360Dx reported, the team has been tuning the specificity and sensitivity of the technology to tailor tests to different applications.
Dxcover sees an opportunity for a high-sensitivity test, which physicians could use to triage patients and rule out cancer as a cause of their symptoms. The company aims to complete clinical trials and receive a CE Mark to support commercialization in the European Union by 2025.
The firm sees a different opportunity in the U.S., where a high-specificity test could enable early detection of brain cancer. Focusing on early cancer detection applications of the technology would put Dxcover in competition with companies such as Grail that are developing and commercializing tests designed for screening healthy patients.
Other companies in the field are developing multicancer detection (MCD) blood tests, but Dxcover is focusing on single-tumor products for now. Dxcover's CEO Mark Hegarty told 360Dx the company would need "a lot more money" to enter the MCD field, leading it to focus initially on bringing a more focused test to market.